Southern Elegance: Planning Your Dream Winter Wedding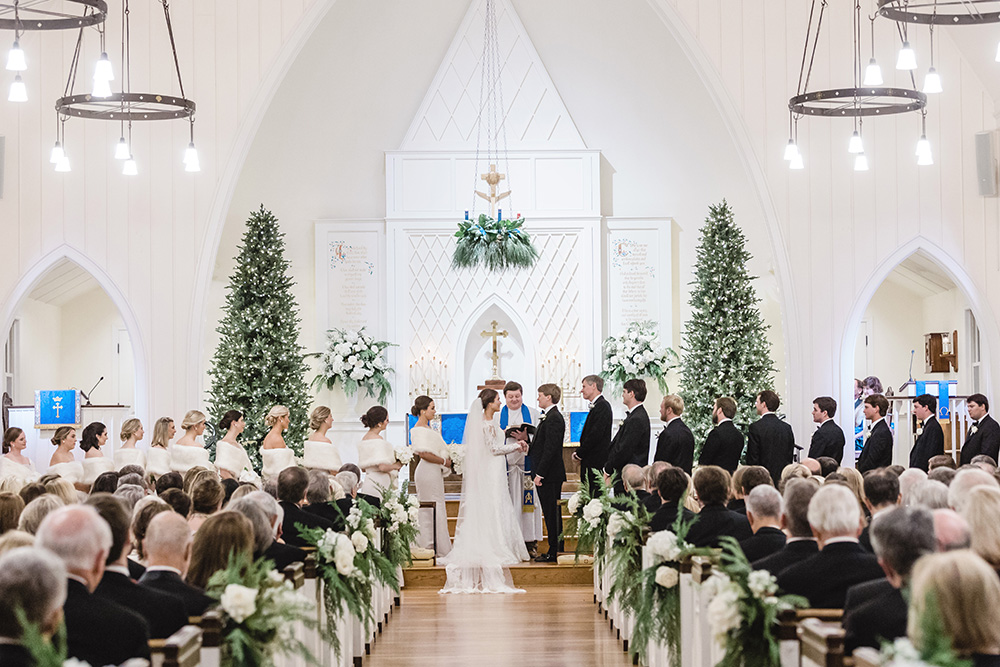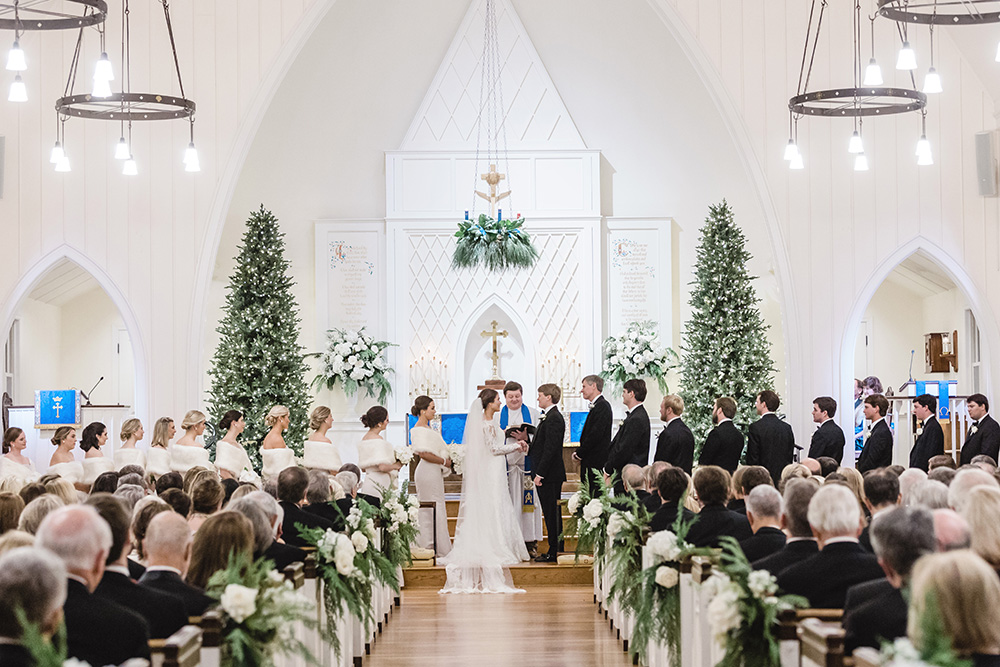 Southern Elegance
Planning Your Dream Winter Wedding
THE SOUTHERN UNITED STATES IS KNOWN FOR its warm hospitality, picturesque landscapes, and rich cultural heritage, making it an enchanting destination for weddings year-round. While summer weddings are popular, there's something genuinely magical about saying "I do" during the winter months on the Gulf Coast. In this guide, we'll explore the charm of winter weddings in the South and provide valuable tips and theme ideas to plan your unforgettable celebration.
Embracing the Southern Winter Weather
Southern winters bring a unique blend of (usually) mild temperatures, stunning sunsets, and the opportunity to incorporate the region's natural beauty into your wedding day. Let's begin by exploring the best practices for navigating the Southern winter weather.
Be Prepared for Weather Fluctuations
Winter in the South can be unpredictable. While it's generally milder than other parts of the country, you should still plan for some temperature variation. Daytime temperatures can range from the 50s to the 70s, while evenings may dip into the 30s or 40s. Here's how to be prepared:
– Dress accordingly: Opt for wedding attire that allows for layering, such as a wedding dress with a removable shawl or a groom's suit with a stylish overcoat.
– Heated venues: Choose a wedding venue with heating options, especially for outdoor or open-air events.
– Weather-appropriate footwear: Consider closed-toe shoes or boots for comfort and warmth, particularly if your ceremony or reception is outdoors.
– Blankets and hand warmers: Provide your guests cozy blankets and hand warmers to keep them comfortable during outdoor ceremonies.
2. Embrace the Soft Winter Light
One of the advantages of a winter wedding in the South is the soft, golden-hued sunlight that bathes the region. Make the most of this enchanting lighting for your wedding photos by:
– Scheduling your ceremony or outdoor photoshoot during the late afternoon, when the light is at its most flattering.
– Utilizing warm lighting in your decor to complement the natural ambiance.
– Choosing a venue with large windows or outdoor areas to capitalize on the natural light.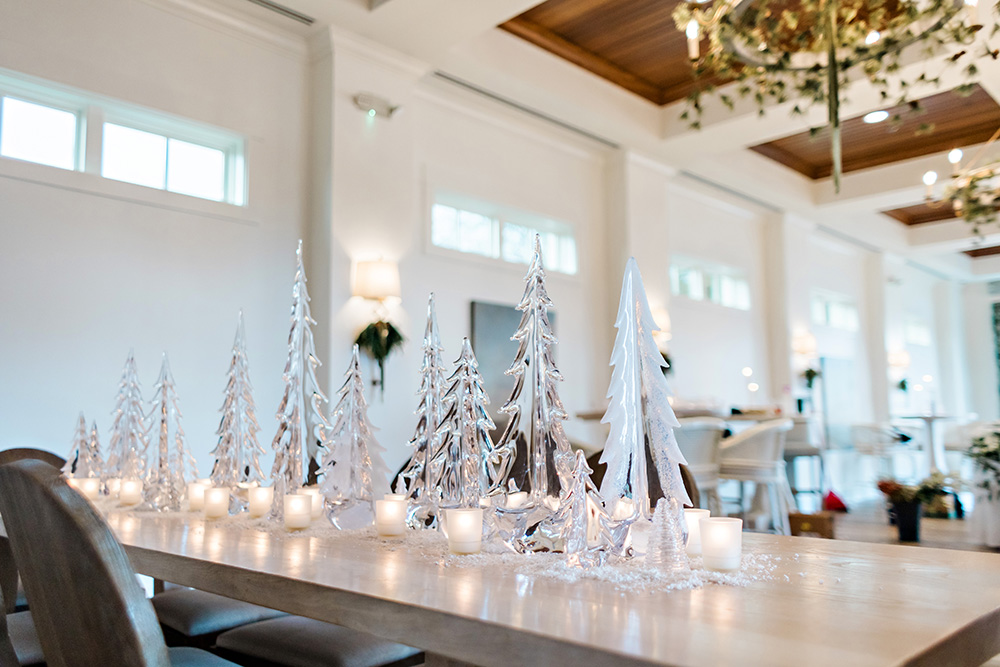 Southern Winter Wedding Themes
Now that we've covered the basics of Southern winter weather, let's explore some captivating themes to consider for your wedding.
Southern Elegance with a Hint of the Holidays

Embrace the charm of the holiday season with a Southern touch. A Southern holiday-themed wedding blends traditional elegance with festive cheer. Incorporate elements such as:

– Classic red and green color palette with gold accents.

– String lights, wreaths, and garlands for a festive atmosphere.

– A Christmas tree adorned with personalized ornaments as a guestbook alternative.

– Seasonal cocktails, like spiked eggnog and mulled wine.

– A grand exit with a shower of biodegradable snow confetti.

Photo by Stefani Marie Photography

2. Vintage Southern Charm

For a wedding that harks back to a bygone era, consider a Vintage Southern Charm theme. This theme oozes nostalgia and combines old-world Southern elegance with a touch of rustic charm. Elements to include are:

– Antique furniture and decor, like vintage chandeliers, lace tablecloths, and mismatched china.

– A muted color palette of pastels, with shades of blush, mint, and ivory.

– Incorporate Southern traditions like sweet tea stations and biscuits served with honey and jam.

– Vintage-inspired bridal and groom attire with lace, pearls, and classic bow ties.

3. Rustic and Cozy
If you're a fan of the rural South and its rustic beauty, a Rustic and Cozy theme may be the perfect choice. Embrace the warmth and comfort of Southern hospitality with these ideas:

– Wooden decor and details, like farm tables, wooden signage, and lantern centerpieces.

– A rich and earthy color palette with shades of deep burgundy, mustard, and hunter green.

– Comfort food menu featuring Southern classics like fried chicken, mac 'n' cheese, and buttermilk biscuits.

– Cozy elements include plaid blankets, fire pits, and marshmallow roasting stations.
Southern Winter Wedding Venues
Choosing the right venue is essential to bringing your Southern winter wedding vision to life. Here are some unique venues that capture the essence of the Gulf Coast:
Historic Homes
Historic homes evoke a sense of timeless elegance and charm. Their sprawling grounds, grand architecture, and majestic oak-lined driveways create the perfect backdrop for a romantic winter wedding. Look for venues that offer both indoor and outdoor spaces.
2. Historic Churches + Synagogues
If you're seeking a more traditional Southern wedding, consider hosting your ceremony in a historic church or synagogue. These venues often feature beautiful stained glass windows, wooden pews, and intricate architectural details that add to the overall ambiance of your special day.
3. Rustic Barns and Vineyards
Rustic venues, such as barns and vineyards, provide a cozy and charming setting for a Rustic and Cozy wedding theme. These venues often come with scenic views and the flexibility to create a warm, intimate atmosphere.
Southern Winter Wedding Details
Incorporating Southern elements into your wedding details can elevate your celebration and make it unique. Here are some ideas to consider:
Southern Cuisine
The South is renowned for its delectable cuisine, and a winter wedding is an excellent opportunity to showcase these culinary delights. Include Southern classics like shrimp and grits, pecan pie, cornbread, and fried green tomatoes in your menu.
2. Bourbon and Whiskey Bar
Set up a bourbon and whiskey bar to honor the Southern tradition of sipping these fine spirits. You can feature a selection of local Southern brands and create a signature cocktail with a regional twist.
3. Live Music
Incorporate live music into your wedding to capture the essence of Southern culture. A live band playing country, blues, or jazz can set the perfect tone for your celebration.
4. Southern Floral Accents
Choose flowers that reflect the beauty of the South, such as magnolias and camellias. These elegant blooms can be used in bouquets, centerpieces, and boutonnieres.
5. Personalized Favors
Show your appreciation to your guests with personalized Southern-inspired favors, such as mini jars of local honey, homemade preserves, or handcrafted candles that capture the region's essence.
Winter Wedding Planning Considerations
Before planning your winter wedding, consider these essential tips to ensure a seamless and unforgettable day.
Timing is Everything
Winter in the South is a busy season for weddings, so book your vendors well in advance. This includes photographers, venues, and caterers. Early planning will help you secure your preferred date and location.
2. Climate Control
Given the mild but unpredictable Southern winter weather, ensure your venue offers climate control options. You don't want your guests to be too cold or hot, so be prepared with heating and cooling solutions.
3. Rain Plan
In case of unexpected rain, it's essential to have a backup plan for your outdoor wedding. Many venues offer indoor options, or you can rent a tent to keep your guests dry and comfortable.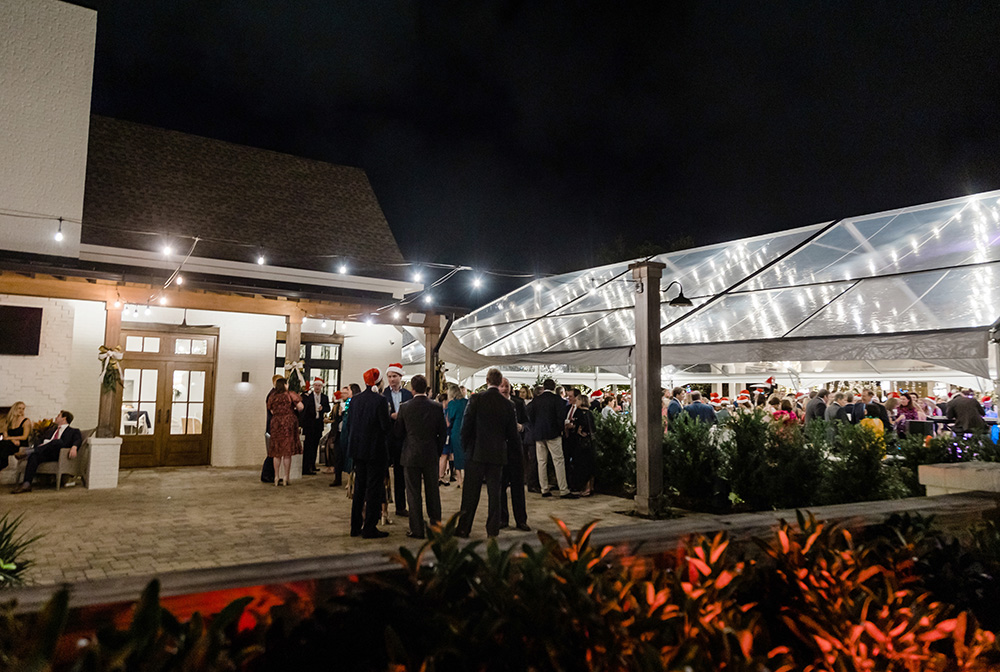 4. Wedding Guest Accommodations
Consider the accommodations for your out-of-town guests. Provide a list of nearby hotels and rentals, and reserve a block of rooms to ensure your guests have a place to stay.
Get tips for booking hotel room blocks for your wedding here.
5. Wedding Transporations
Arrange transportation for your guests, especially if your ceremony and reception venues are in different locations. Consider shuttle services to make it easy for everyone to get to the celebration
A winter wedding in the South is a picturesque and heartwarming choice for couples looking to create a unique and memorable celebration. The blend of Southern elegance, cultural charm, and natural beauty will make your wedding a dream come true. Whether you opt for a holiday-themed wedding, Vintage Southern Charm, or Rustic and Cozy celebration, the Gulf Coast offers a breathtaking canvas for your winter nuptials. Embrace the Southern hospitality, and let the mild winter weather and enchanting landscapes enhance your special day.