Is a "First Look" Right for You?
Photographer Theresa Matherne of Theresa Elizabeth Photography dishes on this trending wedding day experience.
NOW: For those who have never heard of this before, what exactly *is* a First Look?
TM: A First Look is a non-traditional approach to seeing each other before the actual wedding ceremony, but is quickly becoming a tradition that photographers are praising…and for good reason!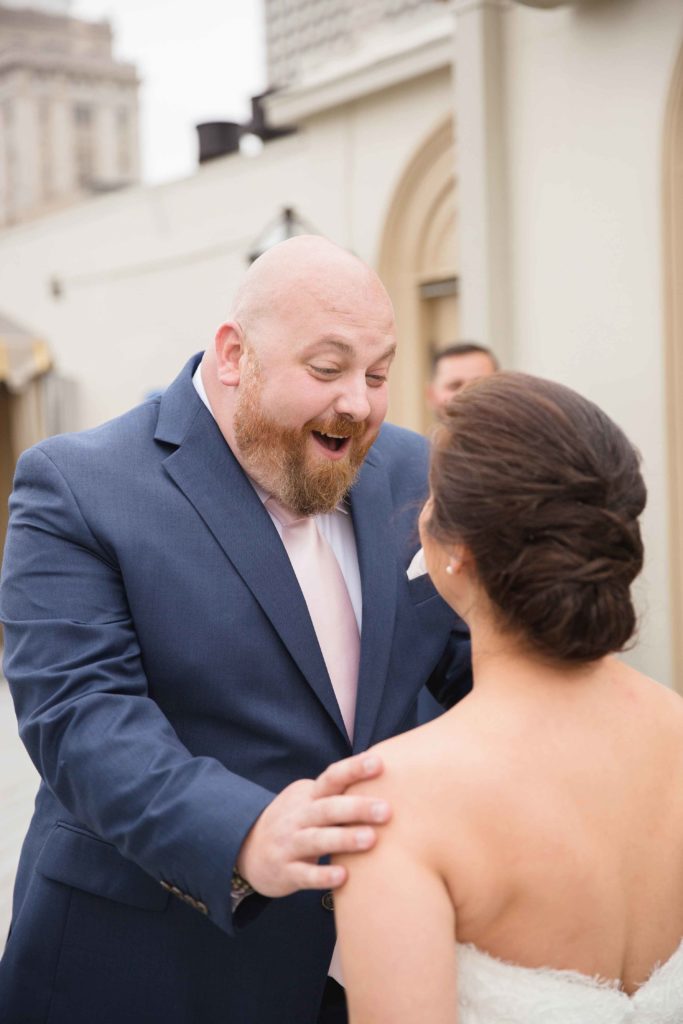 NOW: What are the benefits of doing a First Look?
TM: Where do I start?! The benefits are huge!
First and foremost, you both get to see each other before the ceremony and share your feelings together in private. You also get to put all of the nerves at bay…and quickly. You won't have to wait hours to see each other and then when you do, not be able to say anything. I can't tell you how many times I've heard how relaxed my couples feel after seeing each other. If you think about it this way…if you opt out of a First Look, when do you have a moment together quietly during the remainder of the day?
Second, you have more time for photos. When I say photos, I mean your actual wedding portraits as husband and wife that you will cover your walls with. If you don't take any photos together until after the ceremony, the schedule is much more strict, as most churches allow only 15 minutes on average for photos. I know it may seem like you have a lot of time for photographs after the ceremony, but once you start organizing the different family and wedding party shots there is barely any time left to get photos of the two of you. How ironic is that? It is your wedding but you have the least amount of time for your photos. First Looks can solve that problem!
Third, you get to enjoy yourself…yes…you read that right. After the ceremony is finished, it is time to party! I always suggest taking a few photos of the two of you at your ceremony location but that's it! Everything else is already done so you can get to the reception. How sweet is that?!
Fourth, you will have the best light possible. Not only will you be able to enjoy every second of your reception because photos are completed before, but you will also have a better chance of getting those dreamy portraits during the ideal time of day: the "golden hour". A lot of church weddings take place in the evening, so once you are married it is typically dark outside. Having a First Look will get you those gorgeous portraits you always see in your Instagram feed.
NOW: Since we've covered the pros, what are the cons?
TM: The biggest concern with deciding to participate in a First Look is timing. A first look will mean your entire timeline the day of the wedding will be earlier. This includes hair, makeup, florist arrival, and even needing to extend your limo company for a longer period of time to take you to an extra location (if you are not doing your portraits at the prep or ceremony location).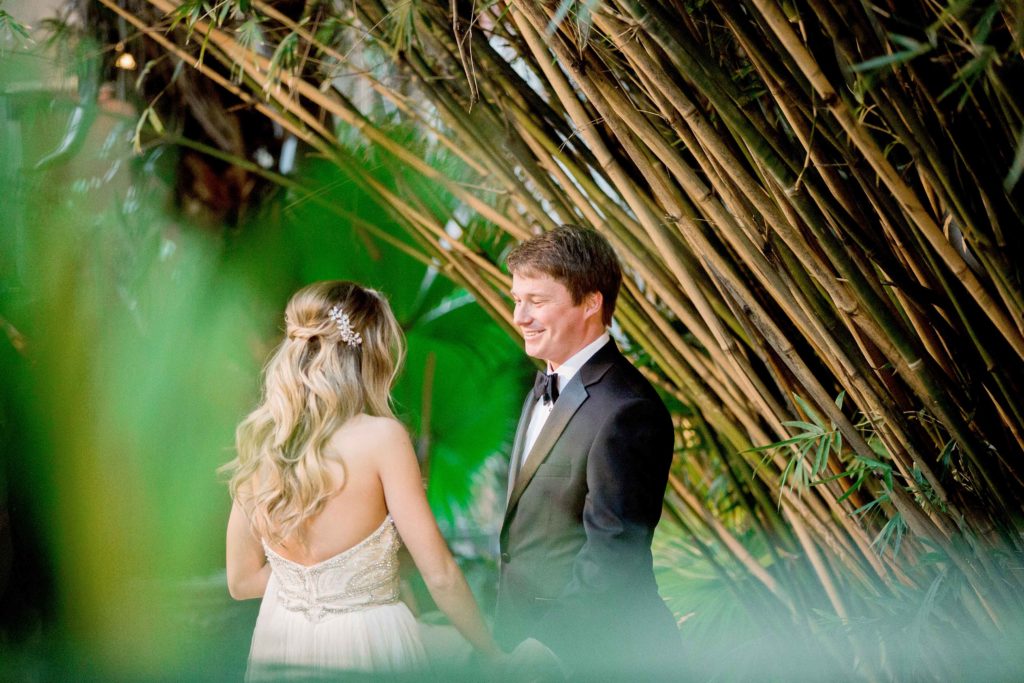 Not every couple has an overly emotional reaction during a First Look. You have to know yourselves and choose based on that. It is a seriously intimate moment (along with two photographers and possible two videographers looming in the background) so make sure both of you are okay with that.
NOW: How much time do you suggest devoting to the First Look?
TM: The average time I suggest for a First Look is 1.5 hours.
NOW: Where do you suggest doing the First Look?
TM: I do think it is best to have your First Look at your prep location, especially if you are planning to go to a separate location for your formal portraits. It gives your photographer bonus time to capture the two of you together on the ride to your portrait location. Score!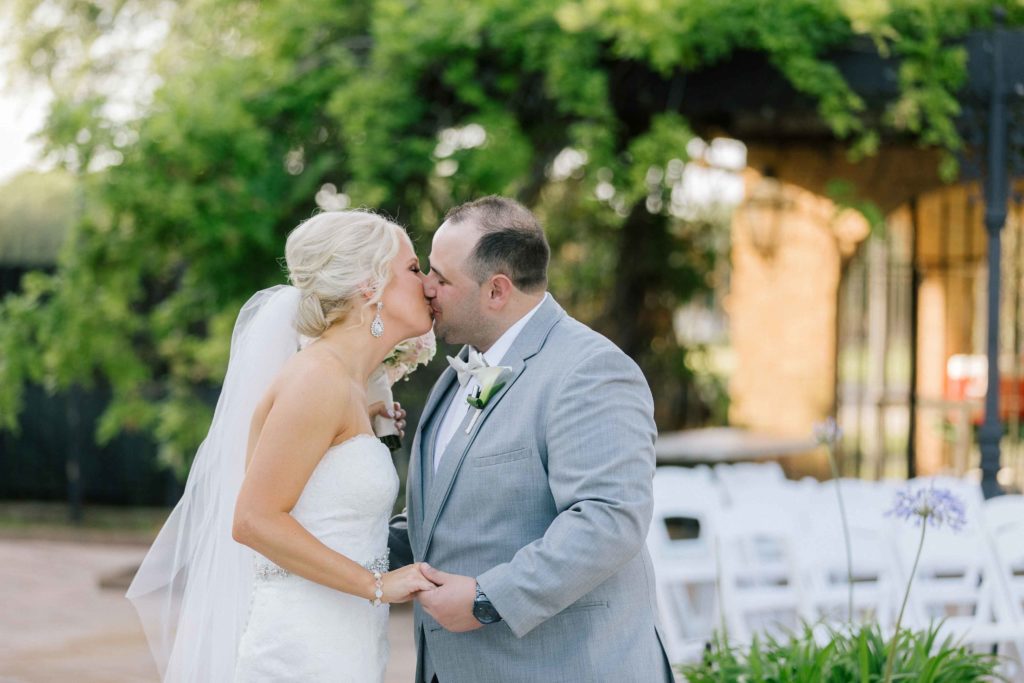 NOW: What can you do to get the best possible images of the First Look?
TM: The best thing to do is to stay in communication with your photographer in regards to your prep location. They will know what venues would be ideal for a First Look. Getting ready in the same location is also very helpful so your transportation company doesn't need to make two trips from two different places.
NOW: What was the most amazing First Look you've ever photographed? What made it so special?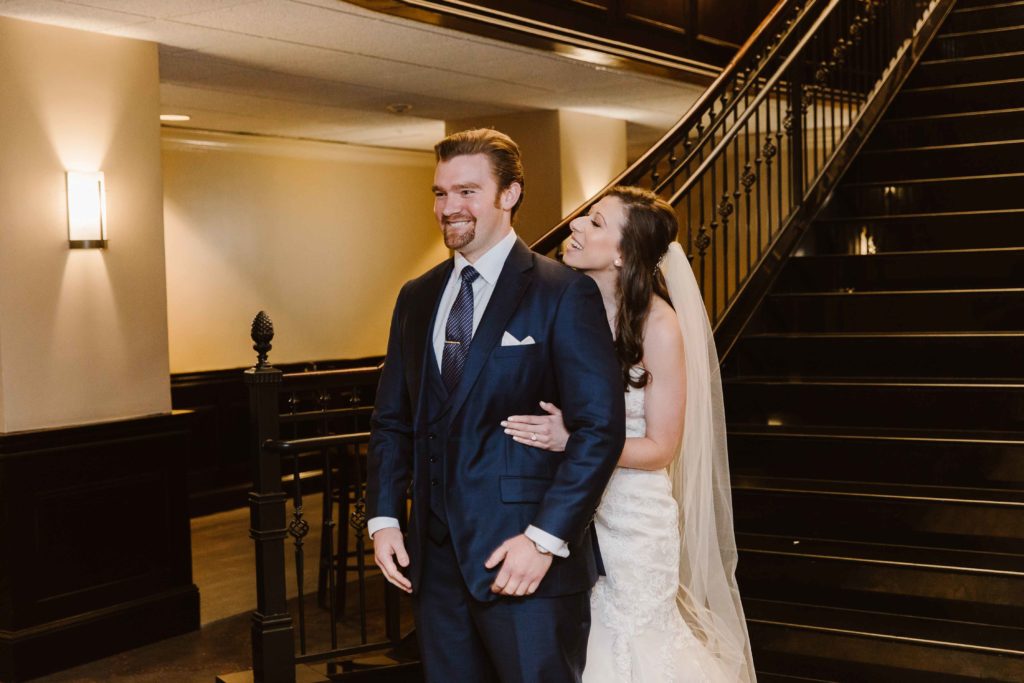 TM: My favorite memory from a First Look was a few years ago. The wedding was at the Old State Capitol in Baton Rouge and their staircase made quite the setting for a First Look. The staircase was so grand with a huge American flag hung in the background. The groom was an army ranger and I seriously did not think he was going to cry. He was always so poised and calm. Well, he literally broke down when he turned around and saw his bride. It was the sweetest thing I've ever seen! She brushed the tears from his face and gave him a big kiss and I lost it…the tears came! However, I can honestly say that every First Look I have photographed has been amazing. I get goose bumps every time and I love seeing my couple's grinning from ear to ear when they see each other. It is beautiful.