Delight your guests with a cocktail hour "tour of New Orleans."

For this editorial, Pigéon Catering & Events has created a menu of signature drinks featuring Seven Three Distilling Company's

New Orleans neighborhood-inspired spirits and a selection of hors d'oeuvres that will enchant your guests' taste buds.

STYLED BY: Tessa Carrington, Event Producer Pigéon Catering & Events

CUISINE: Chef Geoffrey Rhode, Culinary Director Pigéon Catering & Events

PHOTOGRAPHY: Jessica Burke for New Orleans Weddings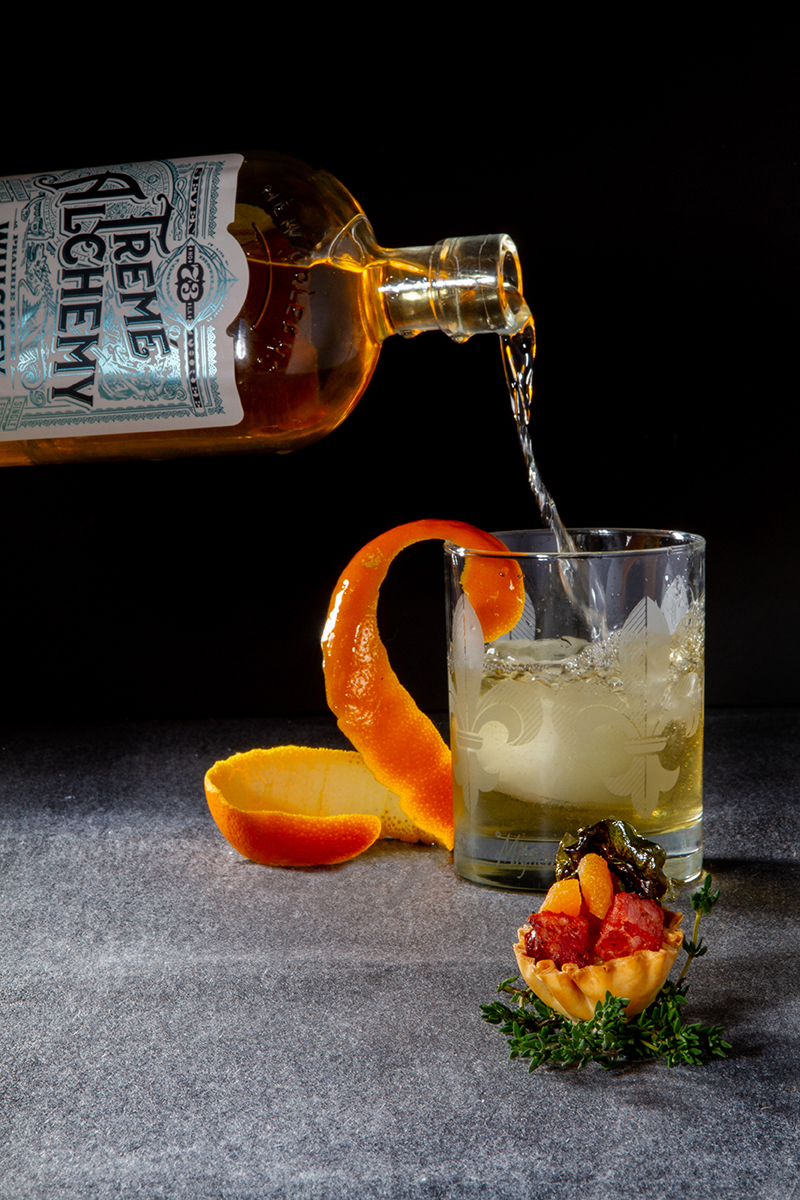 Savor the flavor of Treme Alchemy Rice Whiskey on the rocks. This small batch release two year Louisiana rice whiskey is aged in American oak. Enjoy it paired with this small bite from Pigéon – roasted Andouille and walnuts served in phyllo with apricot mustard.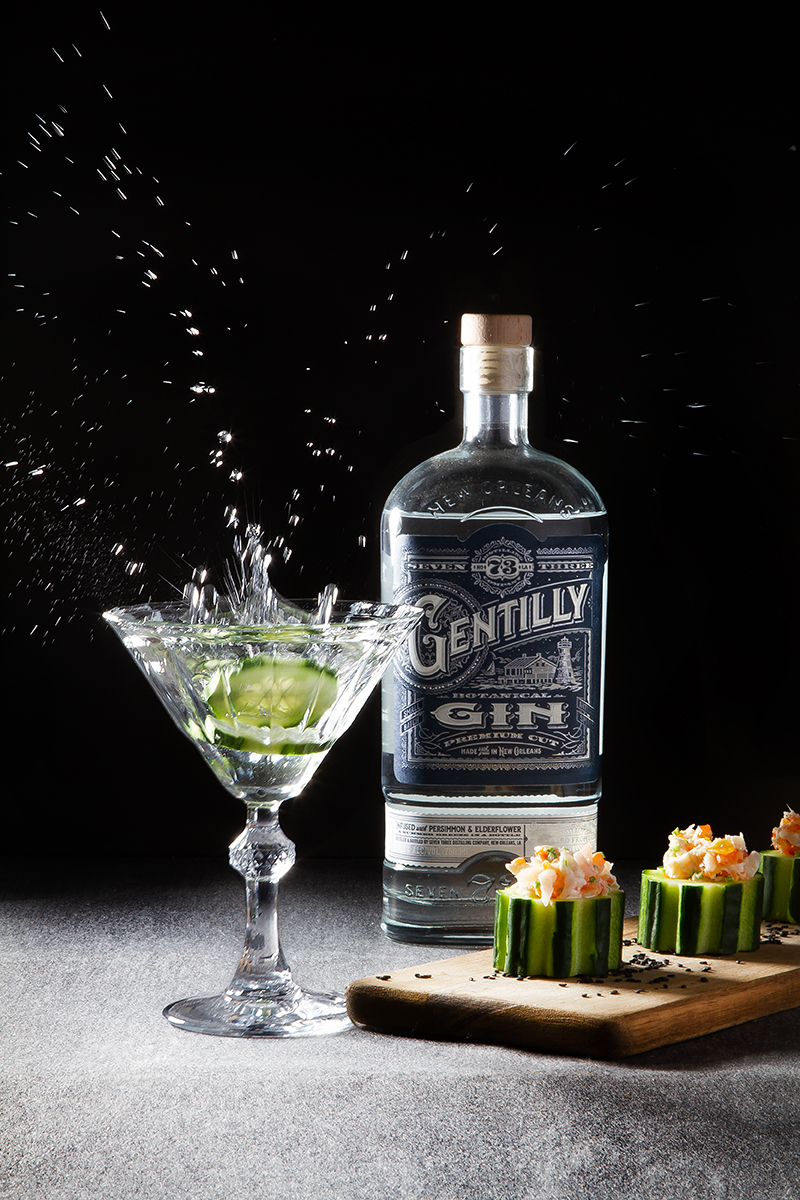 The Gentilly Martini features an earthy, floral gin, inspired by the medicine bag of Cajun folk healers. You'll taste notes of elderflower, persimmon, and green peppercorn. Pigéon pairs this with classic cocktail with marinated crab, shrimp and mango served in English cucumbers.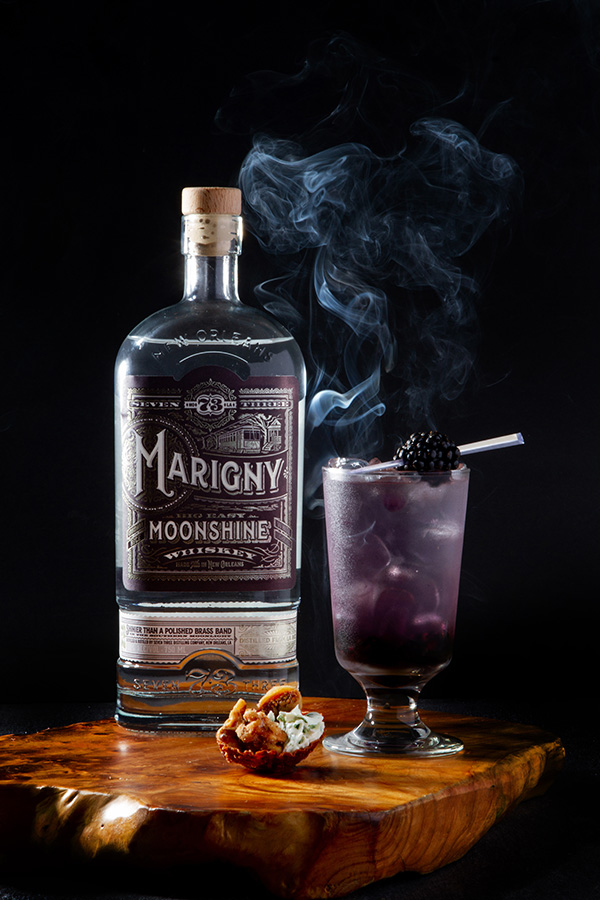 Sip a Marigny Moonshine Bramble, created with Seven Three Distilling Company's un-aged, Louisiana rice whiskey. This whiskey has a touch of honey-malted barley that pairs beautifully with this cocktail's blackberry and citrus flavors. And what better to accompany this funky, fun cocktail than these delightful prosciutto cups filled with fried salami and goat cheese, date and fig garnish?!
This St. Roch Fizz is built with Seven Three Distilling Company's St. Roch Cucumber Vodka. This smooth, premium mixing vodka is crafted from corn and cane, infused with lemongrass, kaffir lime leaves and 100 pounds of fresh-peeled cucumber per batch. Enjoy this effervescent cocktail paired with Pigéon's spring smoked salmon and matchstick crudité.
Seven Three Distilling Company draws their name and inspiration from the seventy-three neighborhoods of New Orleans. They craft their spirits locally at their production facility on Claiborne Avenue, and are open daily for tours, tastings, cocktails, and bottle sales.
Pigéon Catering & Events provides authentic New Orleans cuisine as well as culinary favorites from around the world. Whether they are catering a small house party, a lavish wedding, or a large corporate event, their passion for excellence is the same. Enjoy their elevated level of service and innovative presentation at your next event.