EDITORIAL: Winter Delight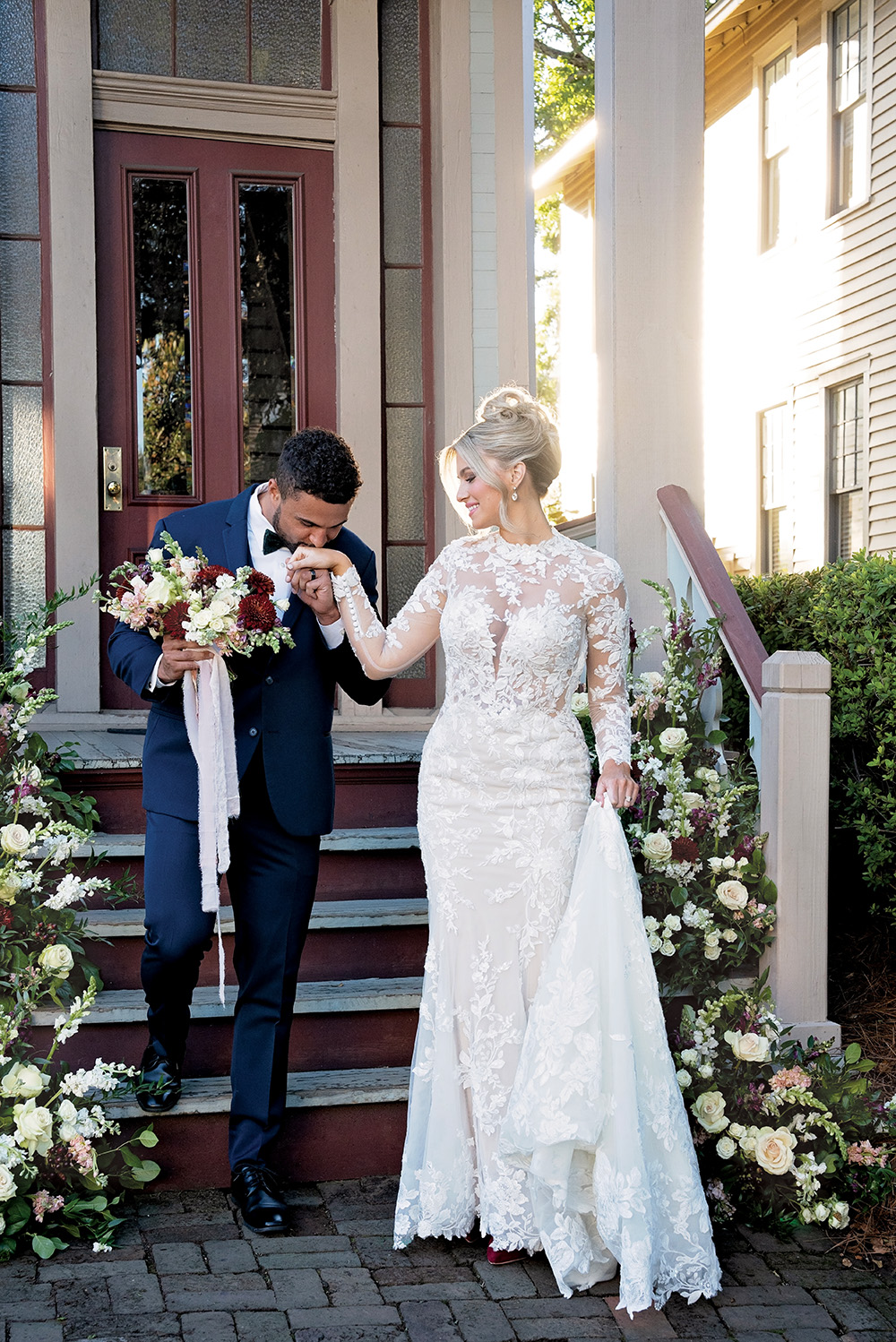 Winter Delight

A FASHION + DECOR EDITORIAL

at Fort Condé Inn | Mobile,Alabama
CREATIVE DIRECTION
Sarah Alleman
PHOTOGRAPHY
ON LOCATION:
FLORALS
The Shade Tree Floral Events & Designs
FASHION
HAIR & MAKEUP
Alexis Ruby Artistry Collective
RENTALS
BAKERY
INVITATION SUITE + MENUS:
VINTAGE CAR
MODELS
Ashley Mitchell + Jordan Michell
for JEA Model Management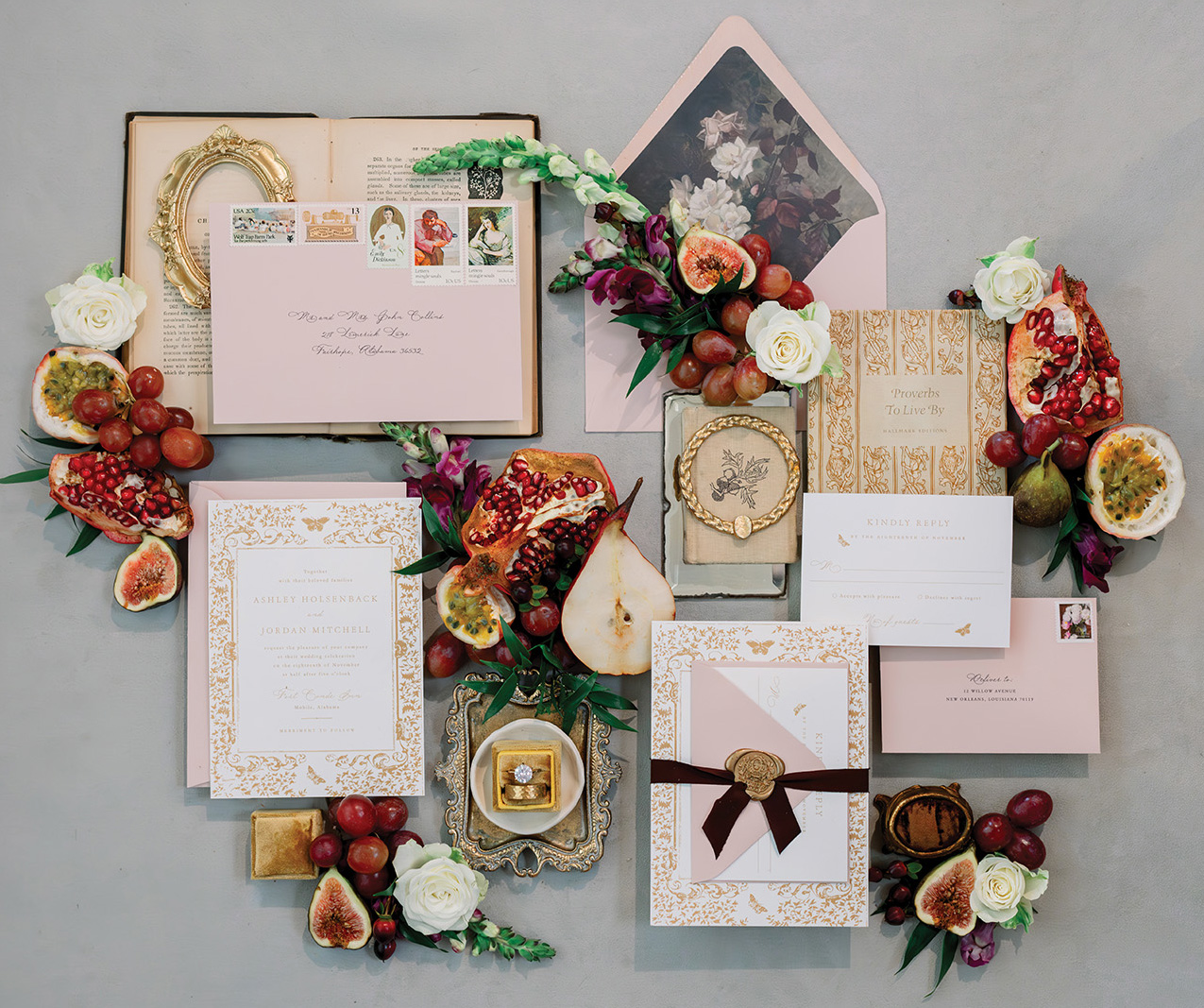 The elegant wedding invitation suite byBetty Lu Paperie features superb details including custom envelope liners and wax seals that capture the luxurious floral inspiration for the editorial, silk ribbon, and vintage postage.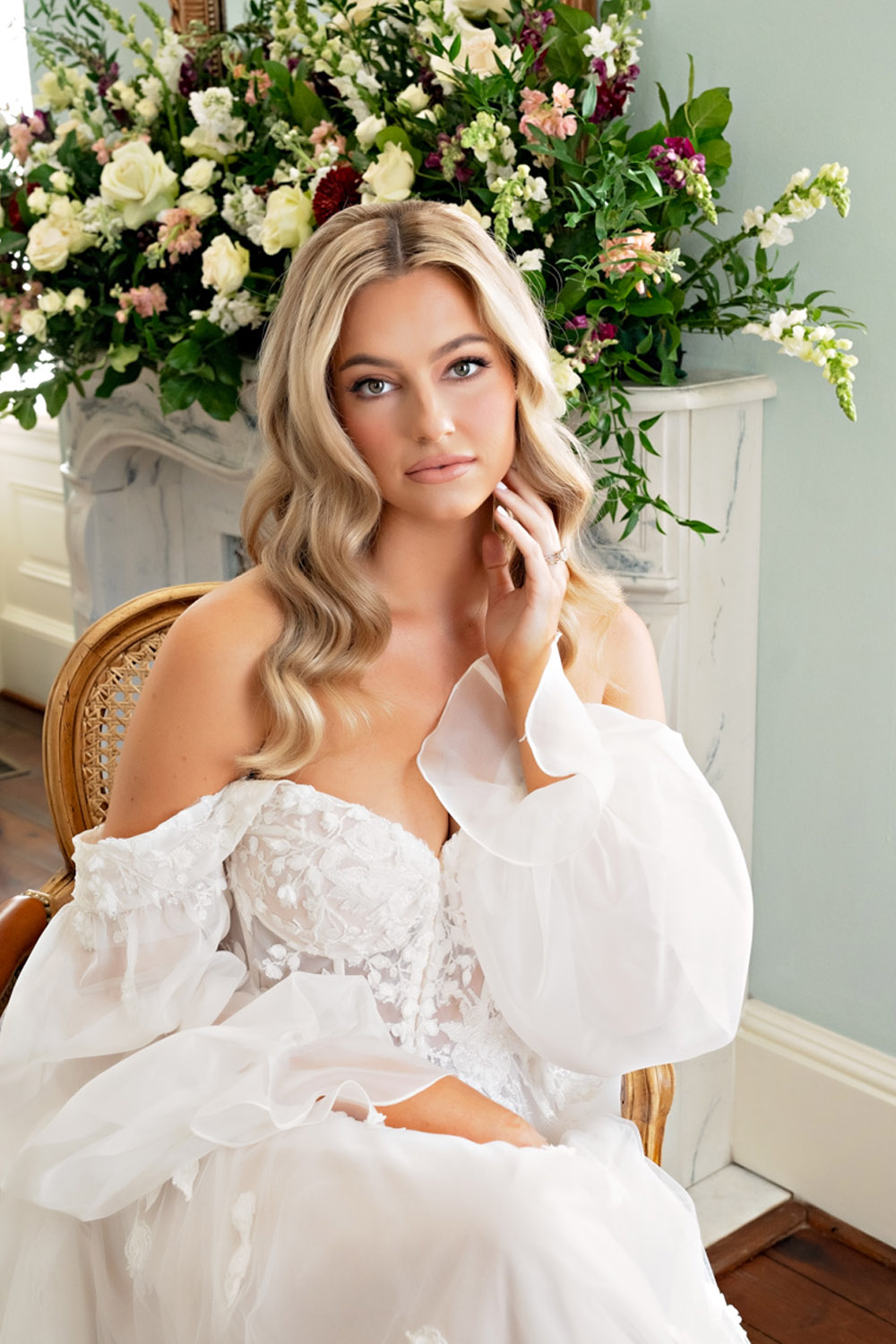 Ashley is wearing an ethereal and romantic, off-the-shoulder sheer gown with delicate 3D floral lace accented with subtle beading and pearl details. The gown, available at I Do Bridal & Formal , features blouson sleeves and a strapless, sweetheart bodice with a subtle plunging neckline. The skirt opens at the thigh for a high skirt split.
Ashley's makeup and hair by Alexis Ruby Artistry Collective is the epitome of natural glam with her hair falling gracefully in Hollywood waves and her makeup enhancing her natural beauty.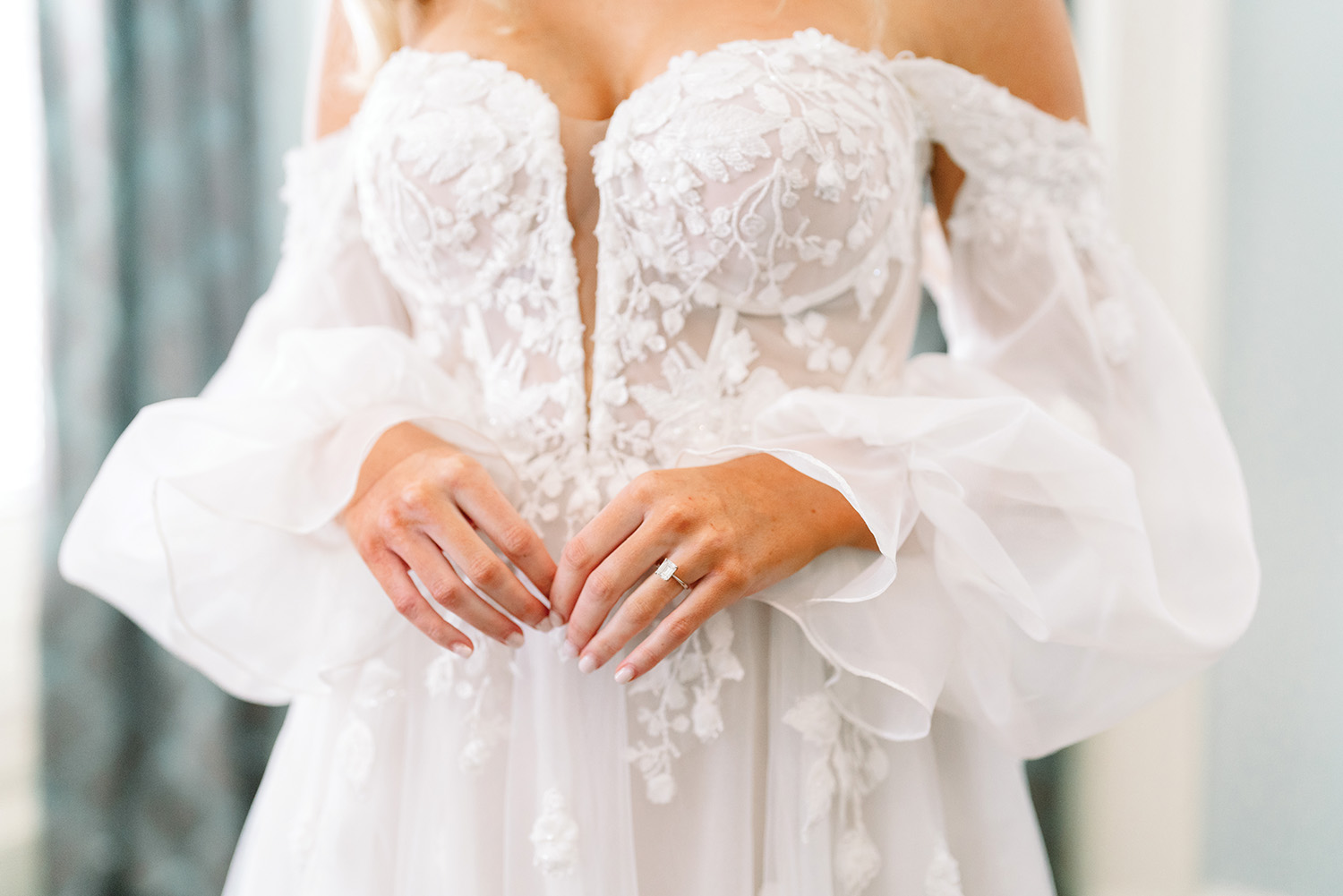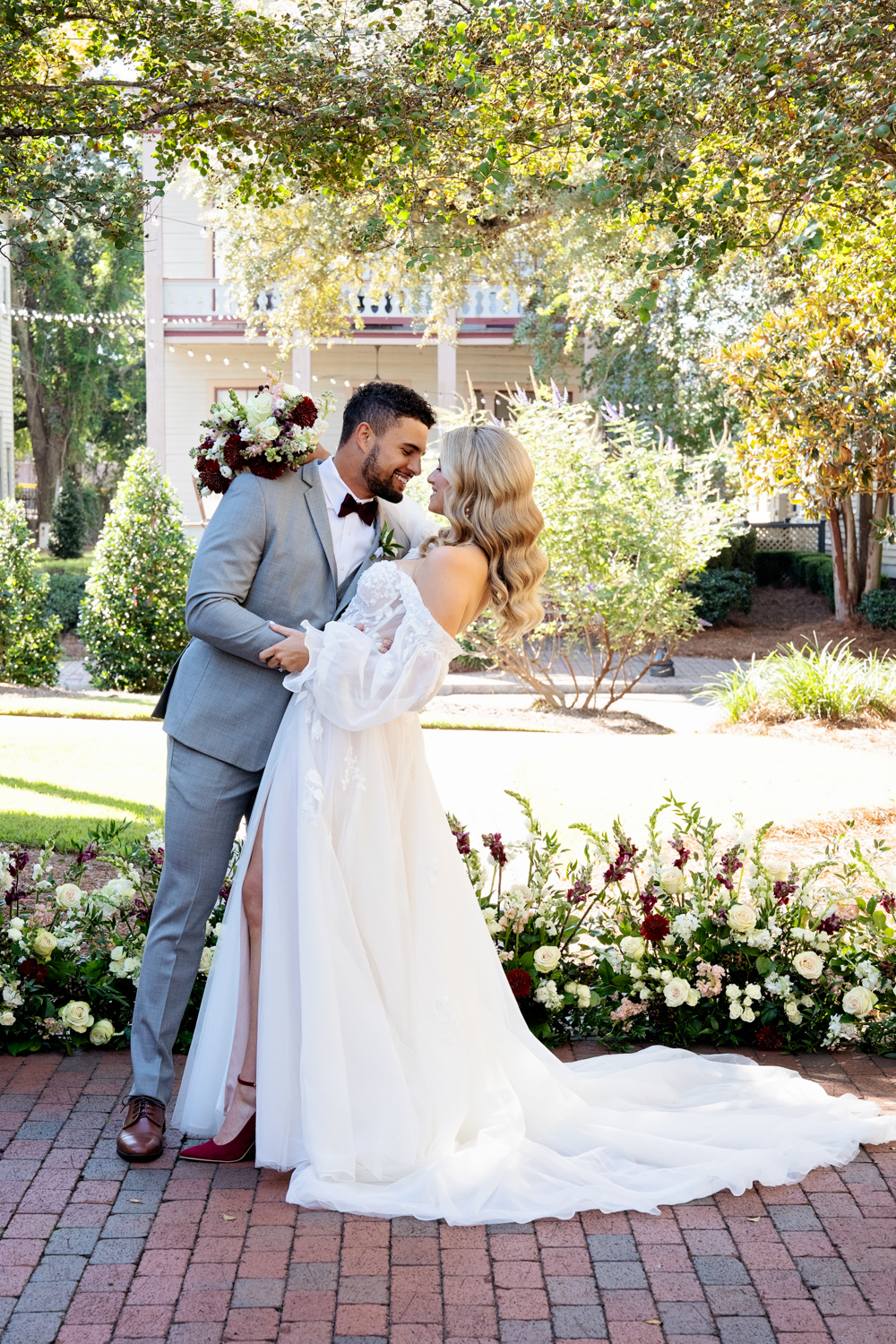 For the ceremony backdrop in Fort Conde Inn's courtyard, Glen Jenkins of The Shade Tree Floral Events & Designs created lush, low floral arrangements that create a garden-like setting for the couple to share their vows.
Our groom, Jordan, is wearing the Heather Grey Clayton suit by Allure Men, available at I Do Bridal & Formal. This suit features ultra slim styling with a self-framed notch lapel jacket with double besom pockets.
Ashley carries a hand-tied bouquet of ivory, blush and burgundy blooms by The Shade Tree Floral Events & Designs.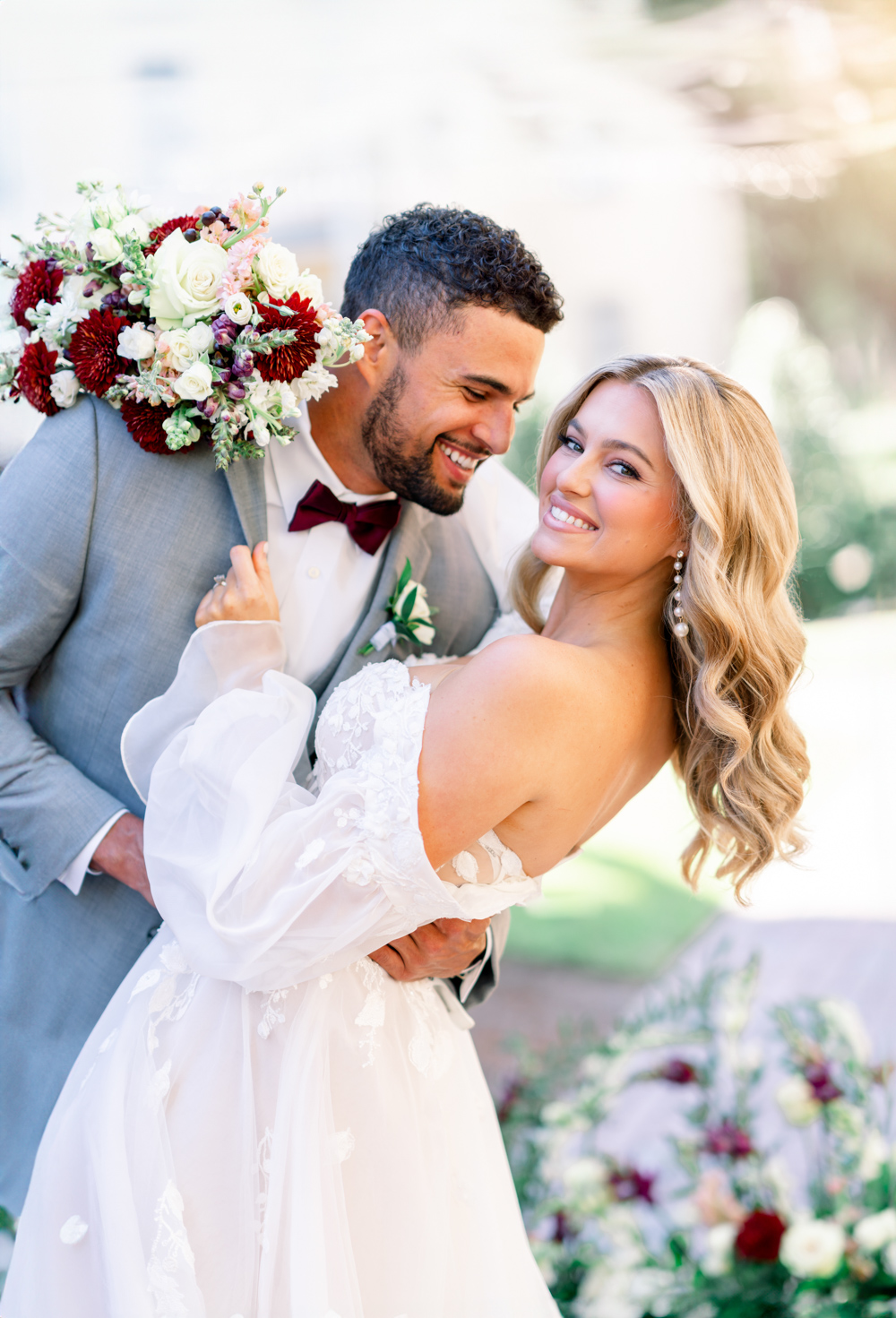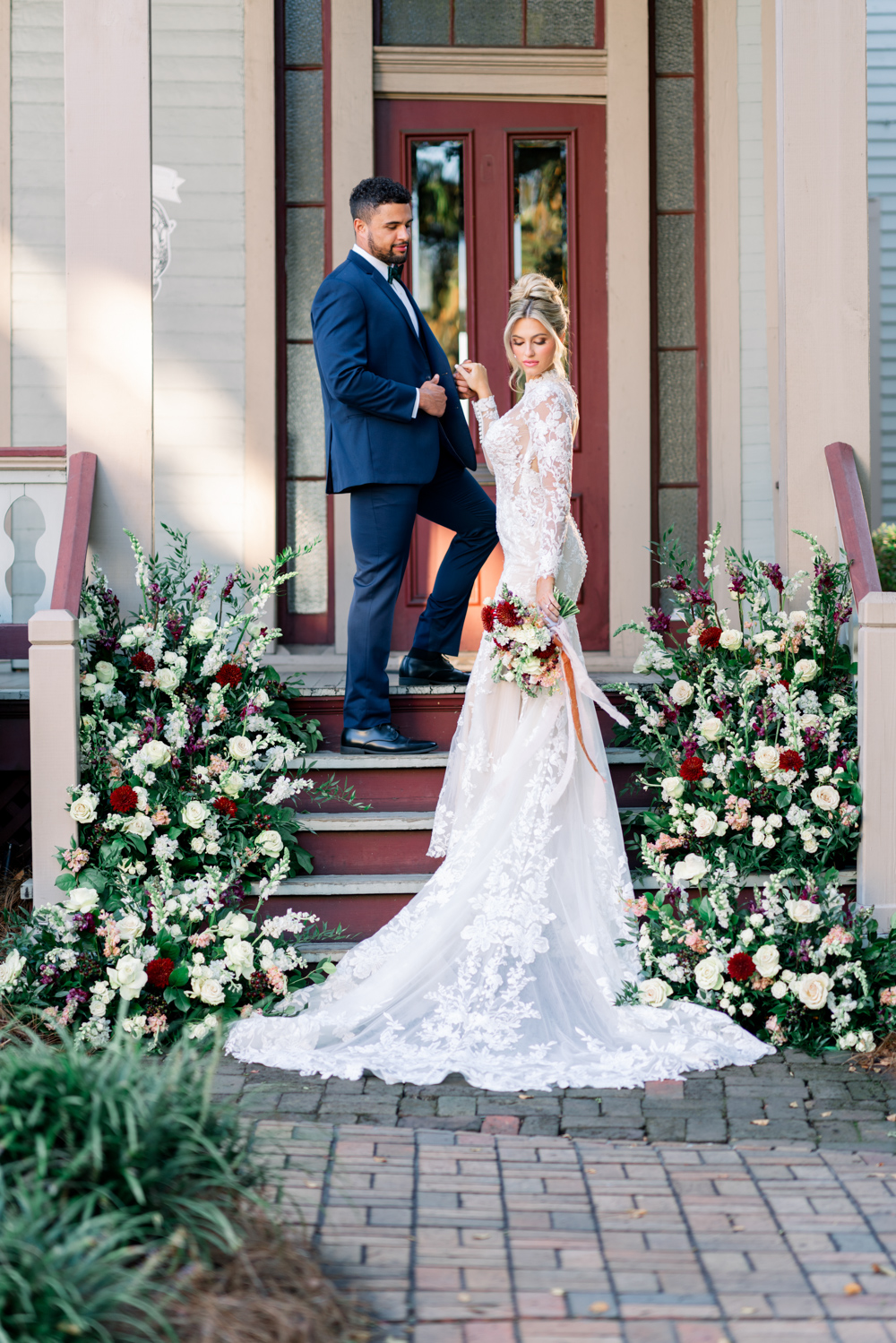 For the reception look, Jordan is wearing an elegant Navy Sterling Slim Fit Wedding Suit by Michael Kors, available at I Do Bridal & Formal.
Ashley is wearing a fashion-forward, yet timeless lace high-neck wedding dress from I Do Bridal & Formal. The gown features a wide open keyhole back, ornate train, tattoo-lace long sleeves and side cutouts that contour the figure.
To complement the gown, Alexis Ruby Artistry Collective transformed her hair and makeup, opting for an elegant updo with wispy curls framing her face and a more dramatic eye and a pop of pink on her lips.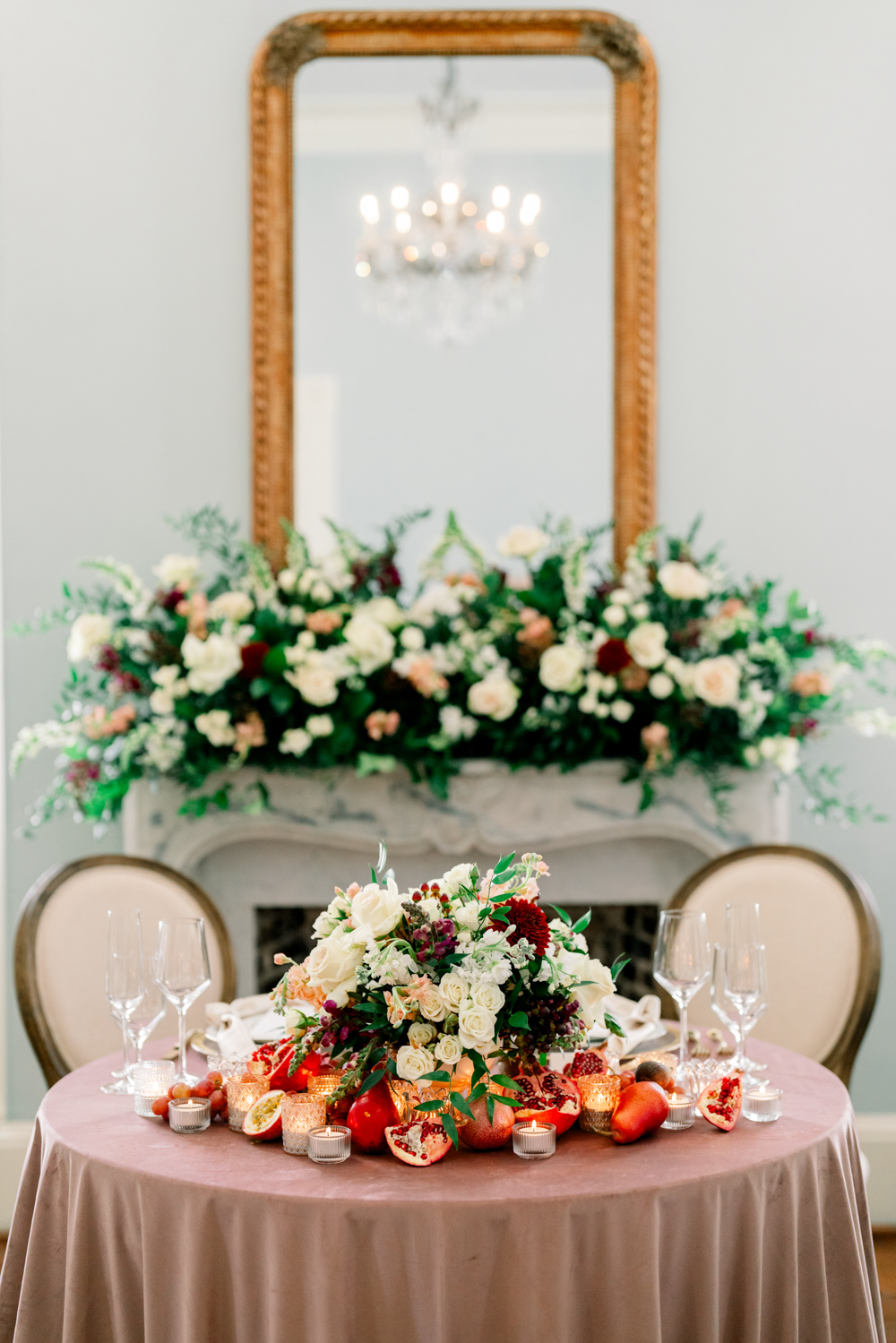 It's so important to take time as newlyweds to have a moment just for the two of you. A private dinner is the perfect opportunity. For this sweetheart table, Glen Jenkins at The Shade Tree Floral Events & Designs created a beautiful centerpiece with fresh fruit and tea lights nestled underneath.
A mauve velvet linen from Gulf Coast Events & Rentals graces the table and their Oak Louis Chairs provide seating for the newlyweds. On the table, also from Gulf Coast Events & Rentals, are glass chargers with gold rims and their Gold Rim Collection plates. Glasses from their Modern collection, Vintage Gold Silverware and gold napkins grace each place.
Menus by Betty Lu Paperie match the stationery suite.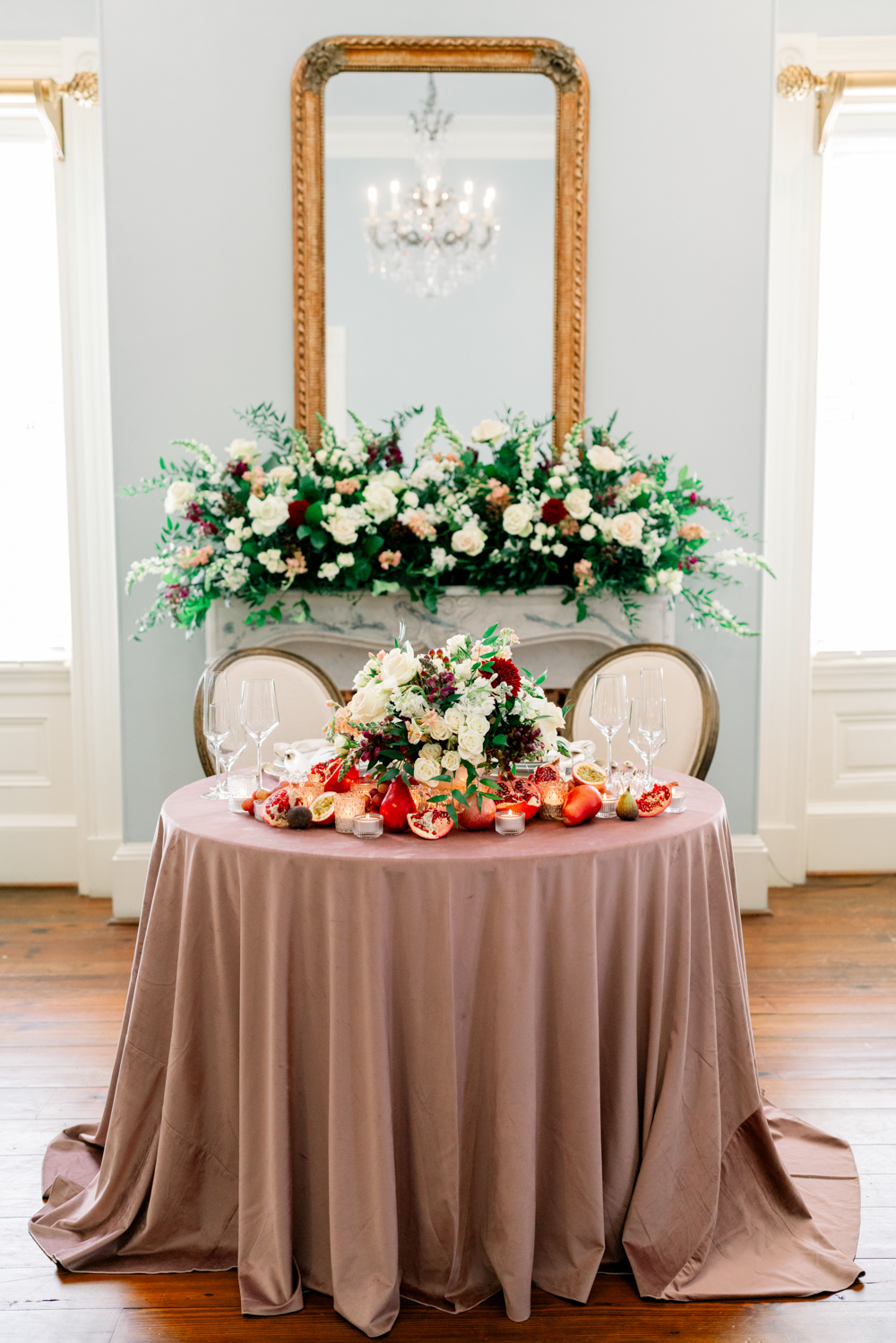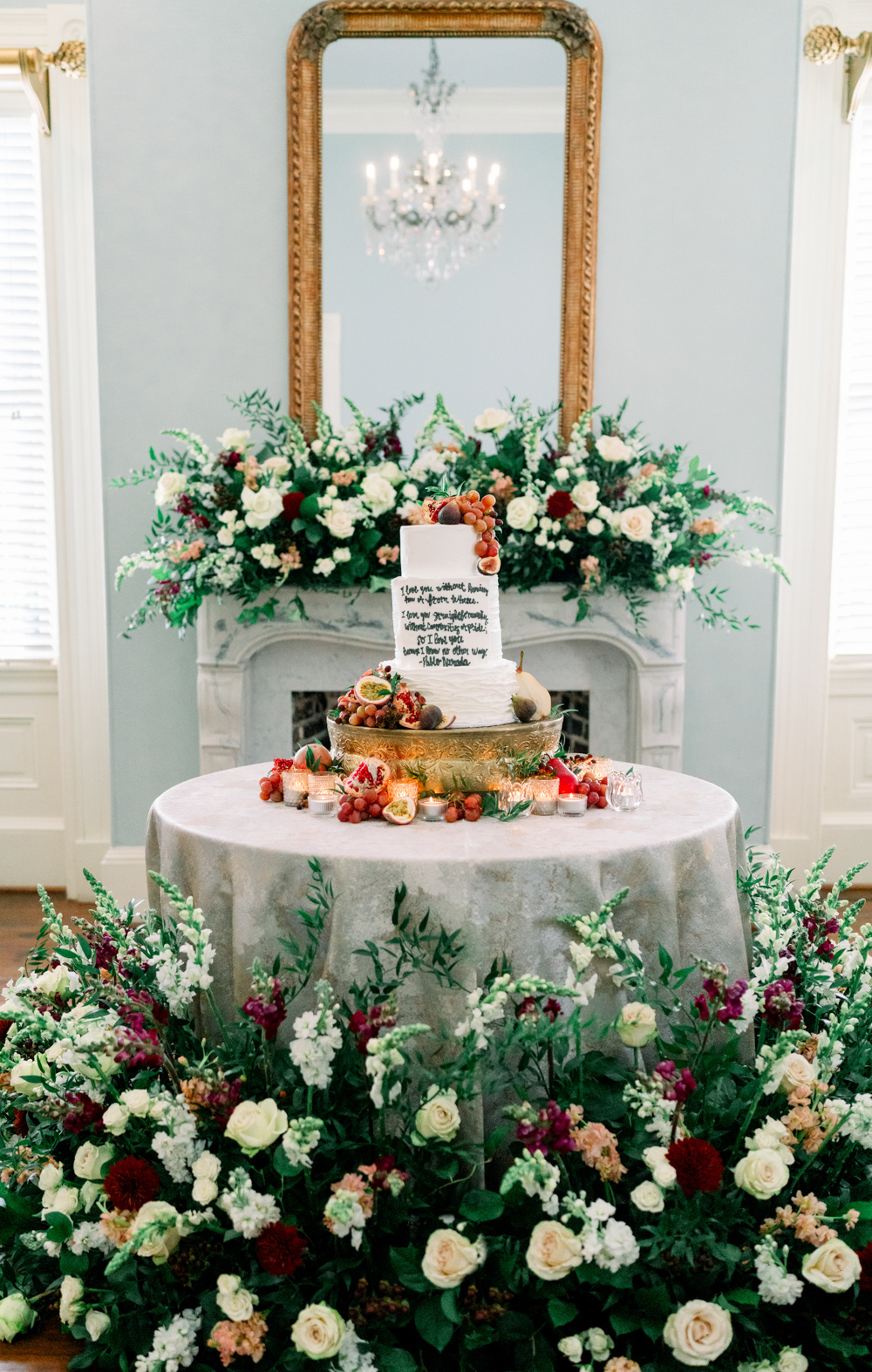 This 3-tier confection by The Bakehouse features lines from Pablo Neruda's poem "I Love You Without Knowing How" on the middle tier.
The cake is displayed on a round gold floral cake stand from Gulf Coast Events & Rentals in the parlor of Fort Condé Inn's Hall-Ford House in front of the marble fireplace covered with lush florals by The Shade Tree Floral Events & Designs. The cake table is draped with Gulf Coast Events & Rentals Sand Louvre Linen and surrounded with florals repurposed from the ceremony setting.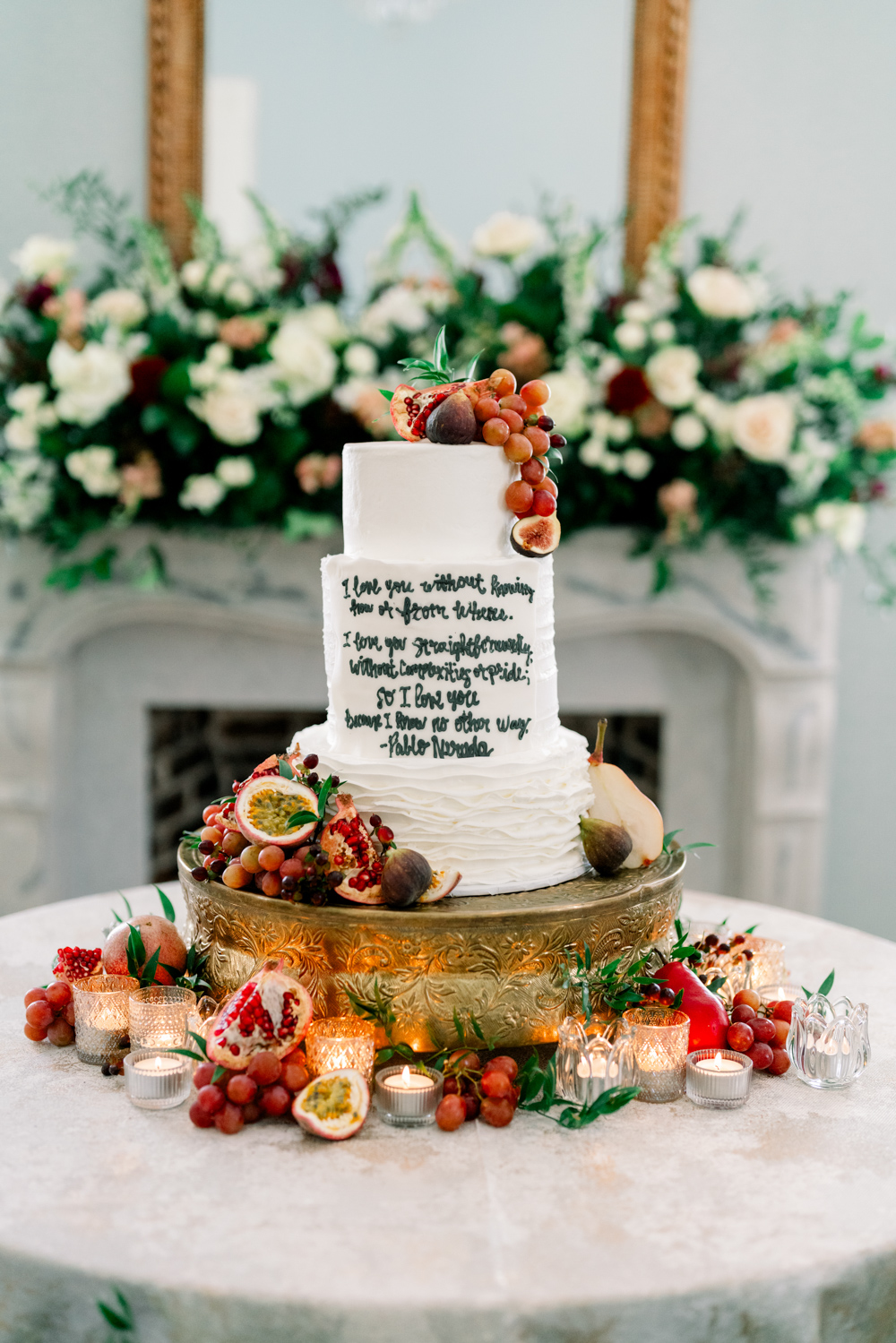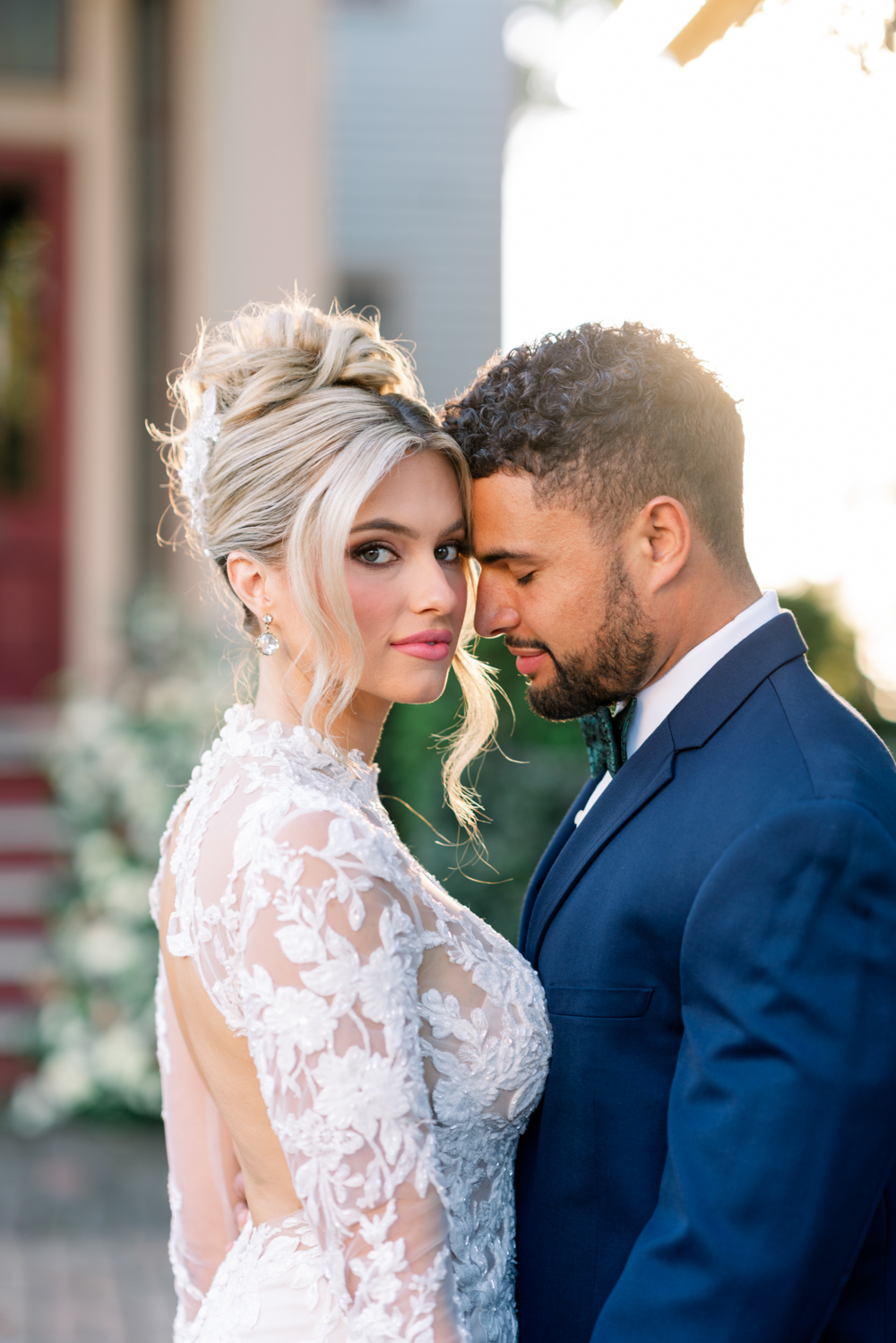 ABOUT THE VENUE
Nestled within the enchanting embrace of Fort Conde Village, where the stars once gracefully descended upon Alabama, the Fort Condé Inn stands as a testament to centuries of history and Southern charm. Nine distinct historic properties, each dating back to the early 19th century, create a singular masterpiece of hospitality.
As you step onto the grounds of the Fort Condé Inn, you are transported to a bygone era, where time seems to stand still, and the echoes of history whisper through the air. This one-of-a-kind historic hotel invites you to immerse yourself in the rich tapestry of the past while indulging in the epitome of modern luxury.
Beyond the charming facades, the Inn boasts a commitment to the highest standards of luxury. Immerse yourself in the sumptuous spaces, where every detail has been thoughtfully curated to ensure an event that transcends the ordinary.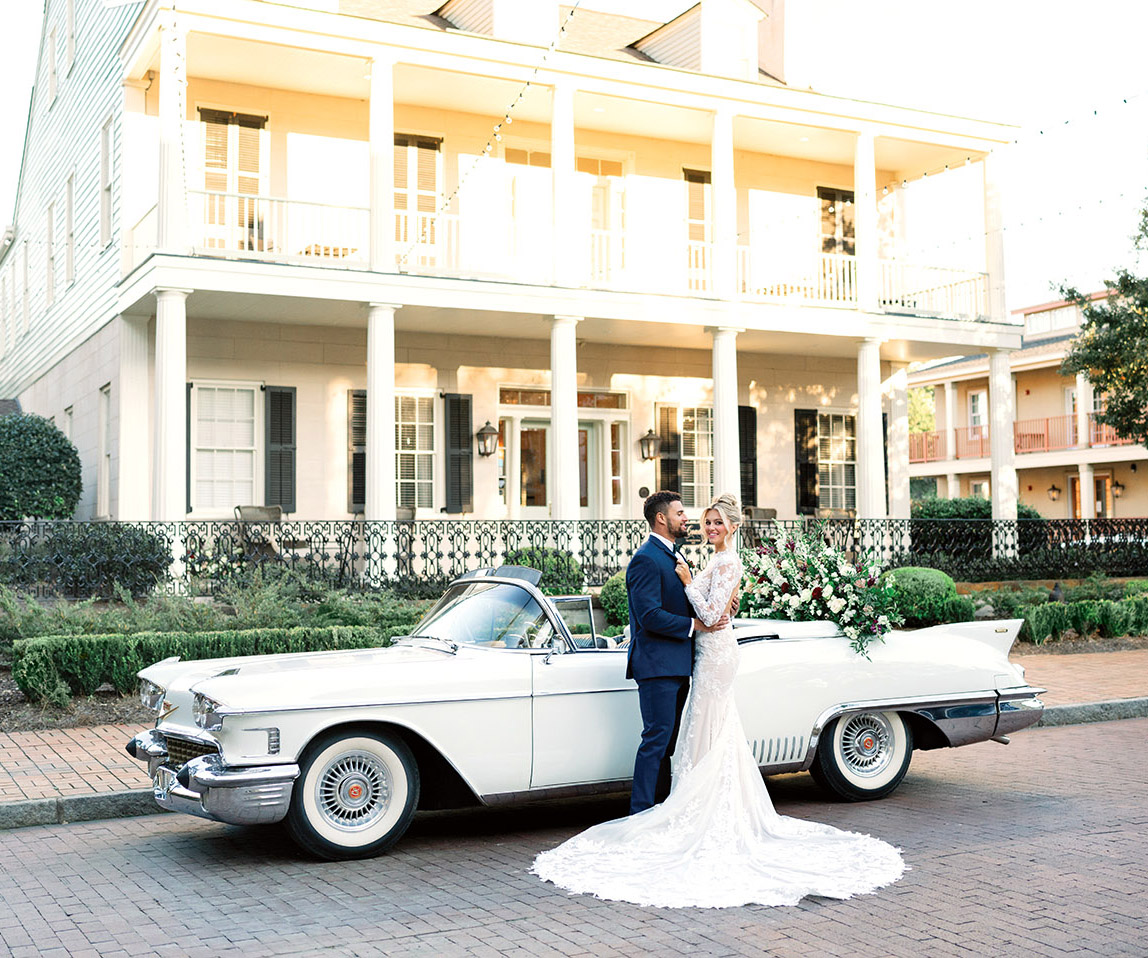 Ashley and Jordan make their exit in A Bride's Ride's 1958 Cadillac Eldorado Biarritz Convertible. This car is a masterpiece of design, engineering, and styling featuring an Olympic White exterior with a black and white leather interior. Its iconic rear fins and elegant grille are spectacular in photos!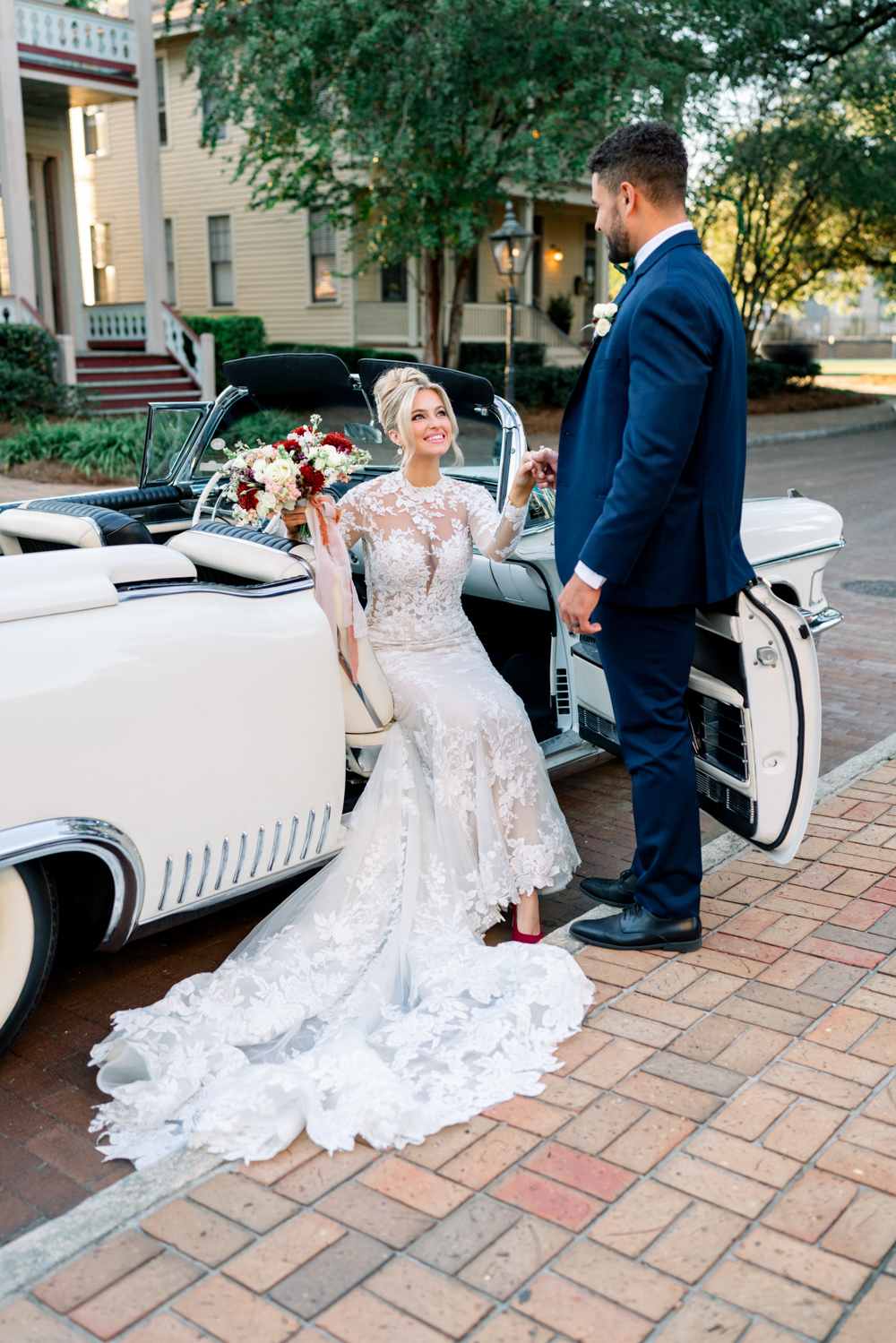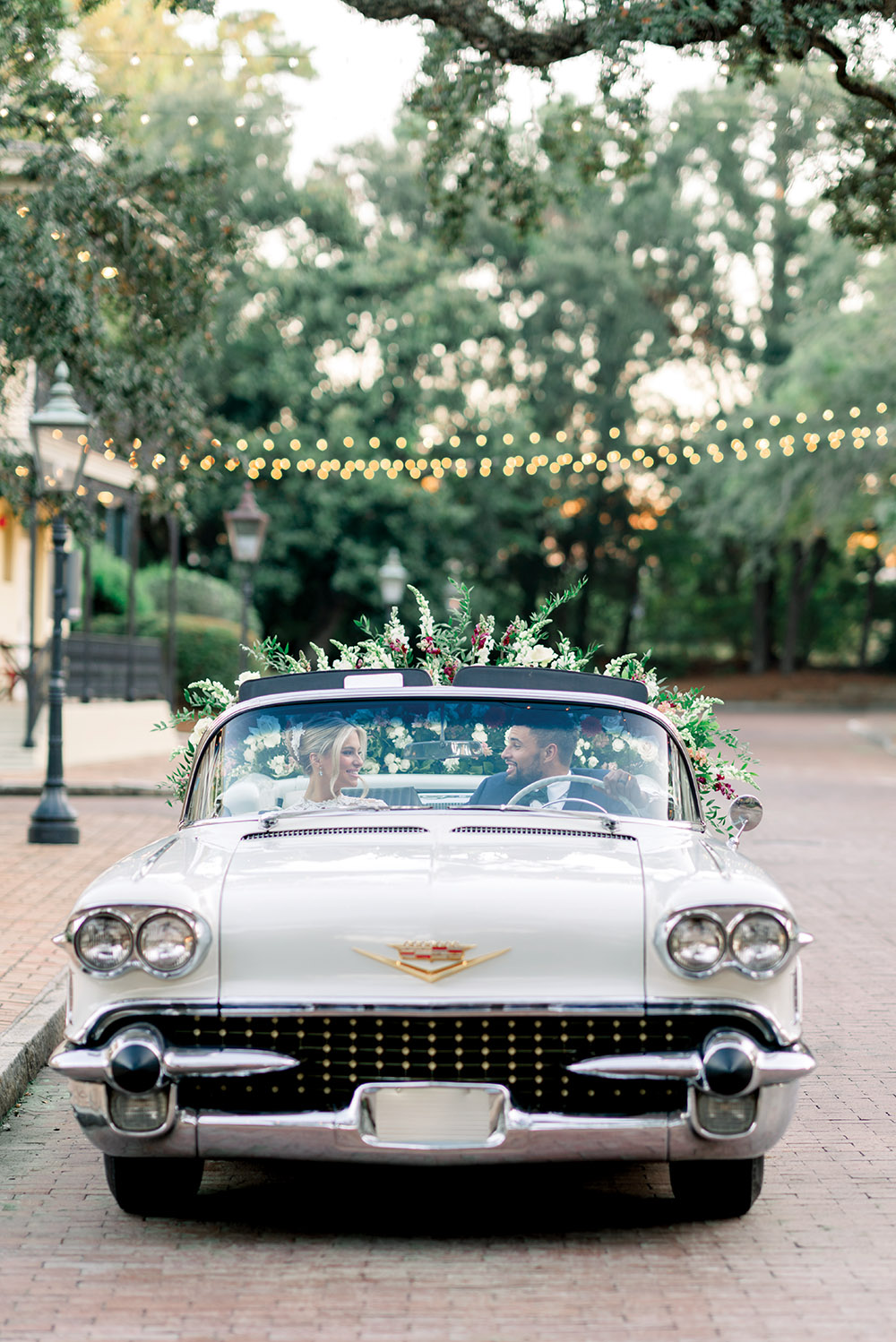 Explore more editorials below!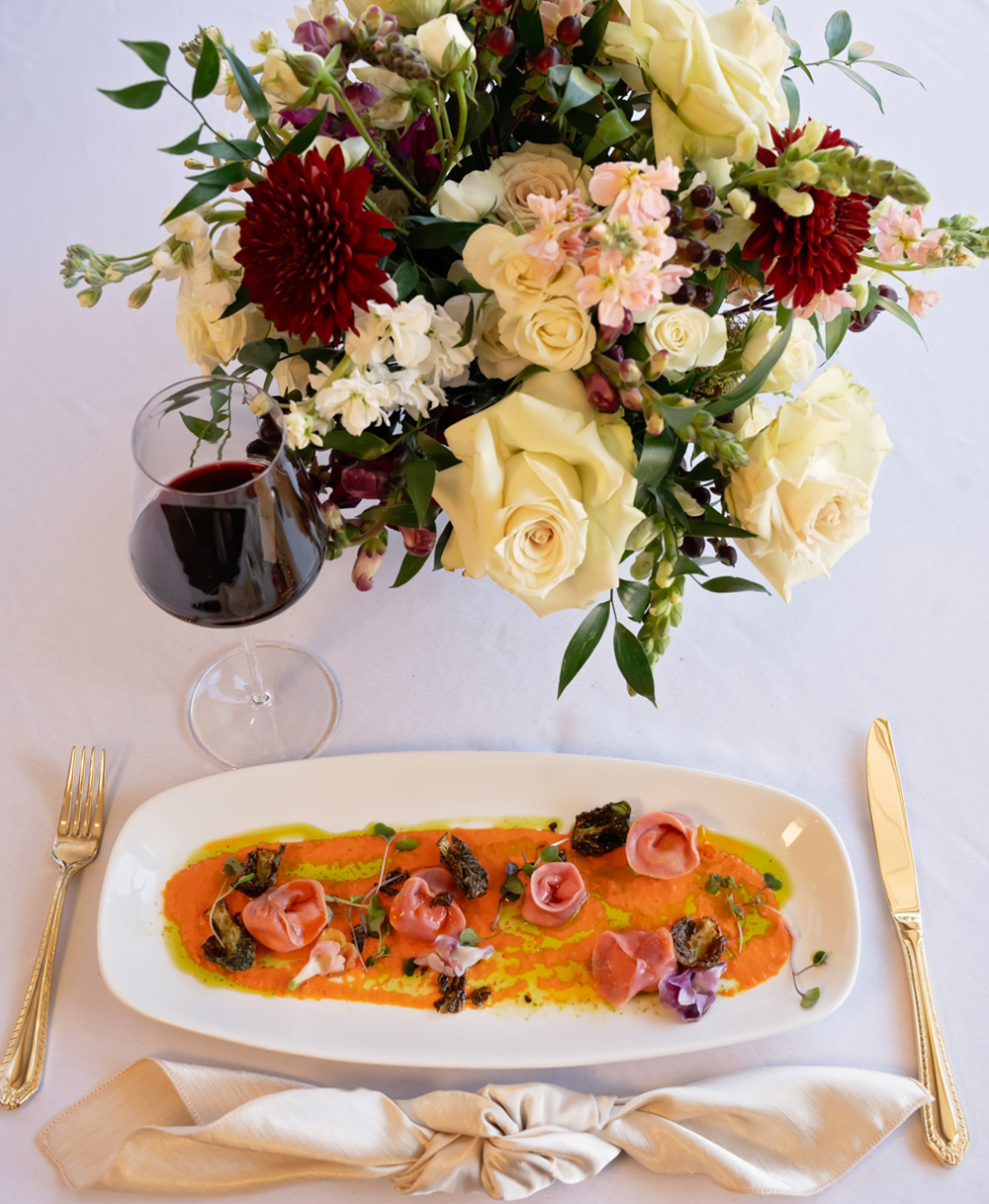 November 14, 2023
FINE DINING SPOTLIGHT: BISTRO SAINT EMANUEL Jordan Garcia, Executive Chef Photography: Stefani Marie Photography |…