Talia + Jessica: A Literary Kind of Love
Talia Aull and Jessica Wax | September 28, 2018
Written by Marielle Songy and Jessica Burke
Photography by Brian Jarreau, Brian Jarreau Photography
Talia and Jessica first met in 2008, when they were introduced by their best friend, Michael at Mellow Mushroom in Baton Rouge. After dating for a while, they parted and for five years went their separate ways, living in different states. It was their friend Michael who brought them back together in the fall of 2014 when he cast them both in a four-person rework of Stephen Sondheim's "Putting It Together" for his theater company in Illinois. By the end of the play's run, the two were a couple again and had decided to move to Atlanta to begin their lives together. Both Talia and Jessica knew that this time their relationship was forever.
Ever the creative type, Talia created a scavenger hunt proposal around the city of Atlanta and sent Jessica out to solve the clues. The hunt included stops that held meaning for them as a couple; takeout from their favorite Thai restaurant, a picnic with their best friends, a stop at a Mellow Mushroom restaurant, and finally, the Botanical Gardens. Each spot contained special memories that were meaningful to the couple, moments when Talia knew that she wanted to spend the rest of her life with Jessica. Jessica proposed to Talia as well, creating a rose petal path through their house, leading to vows in each room.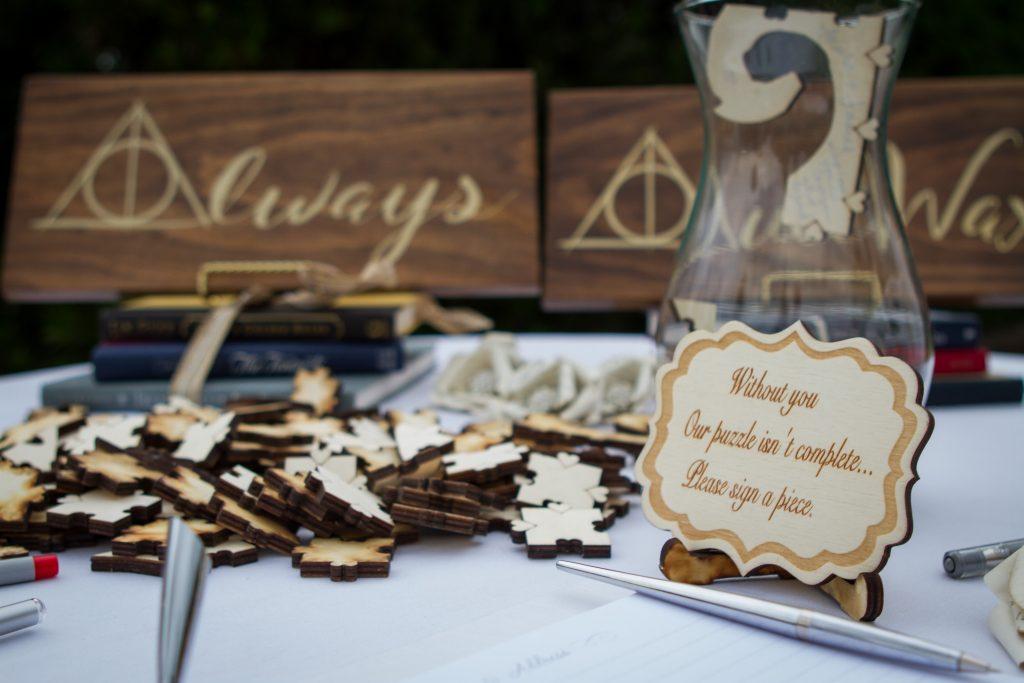 Talia and Jessica were married at the New Orleans Botanical Gardens at City Park on September 28th, 2018.
The couple included their love of literature in details throughout their wedding.
Talia shares, "I made the centerpieces with books from our library, because we like to read together and love literature and stories in all genres: written fiction, live theatre and opera, as well as TV and film."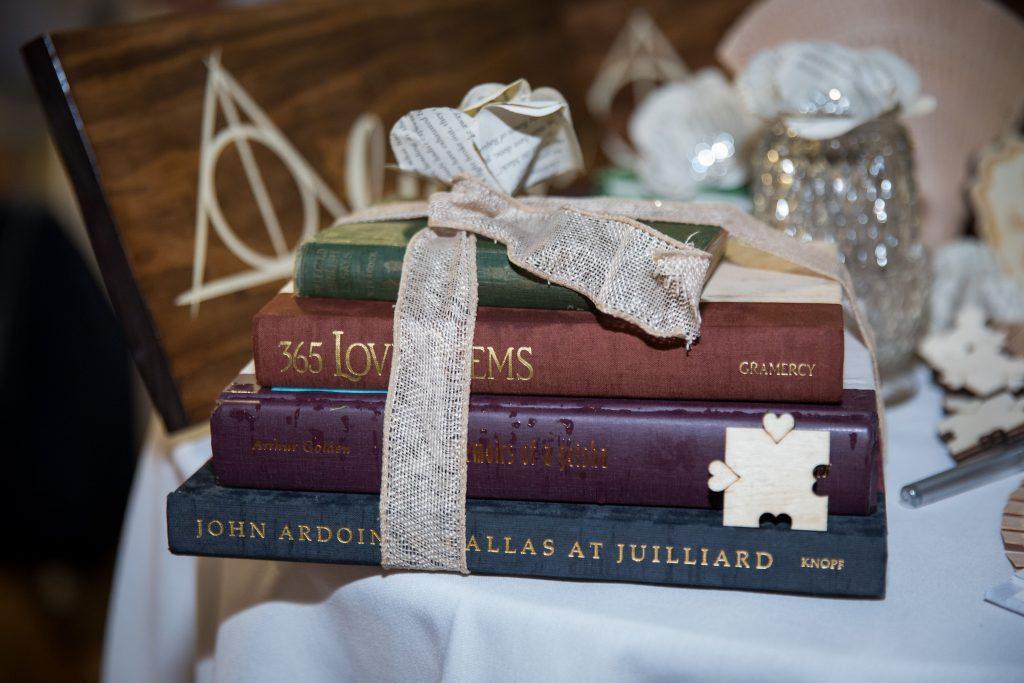 Paper roses made from pages of Harry Potter books decorated their cake table. The brides' toasting flutes were etched with the words "My Sun and Stars" and "Moon of My Life", a reference to Game of Thrones. Talia's shoes had "CXVI" inscribed on the sole as a reference to Shakespeare's 116th Sonnet: "Let me not to the marriage of true minds admit impediment…"
The couple also took every line of their vows from poetry and literature, including Christina Rosetti, Shakespeare, George R.R. Martin, and Robert Herrick.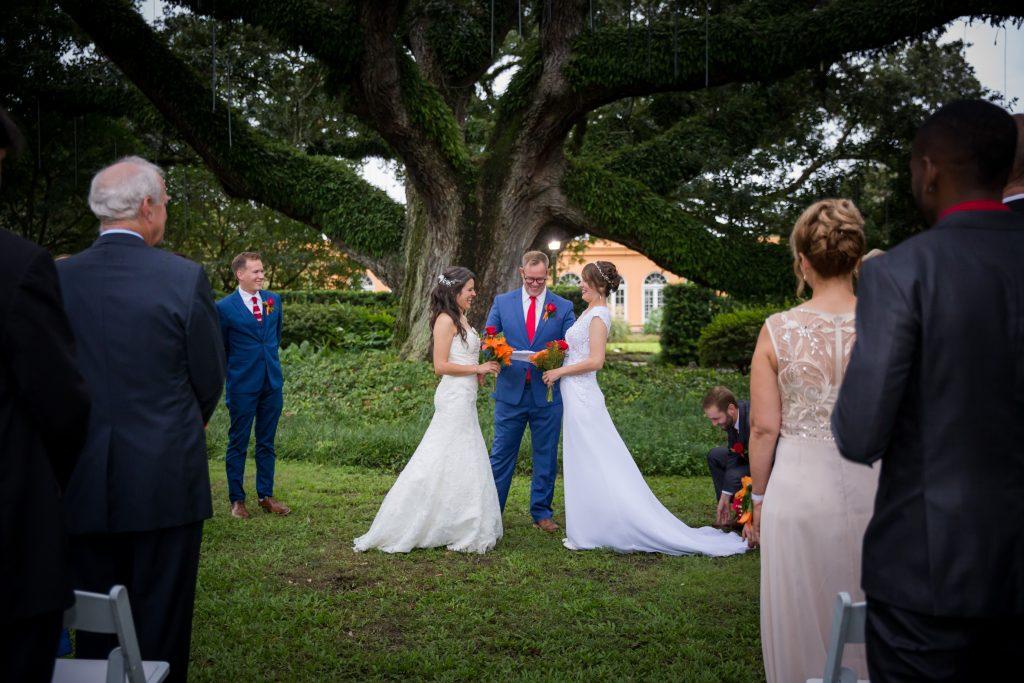 Talia and Jessica danced the night away in the Garden Study Center in New Orleans City Park and ended the evening in a shower of red rose petals before departing on their honeymoon to Little Cayman.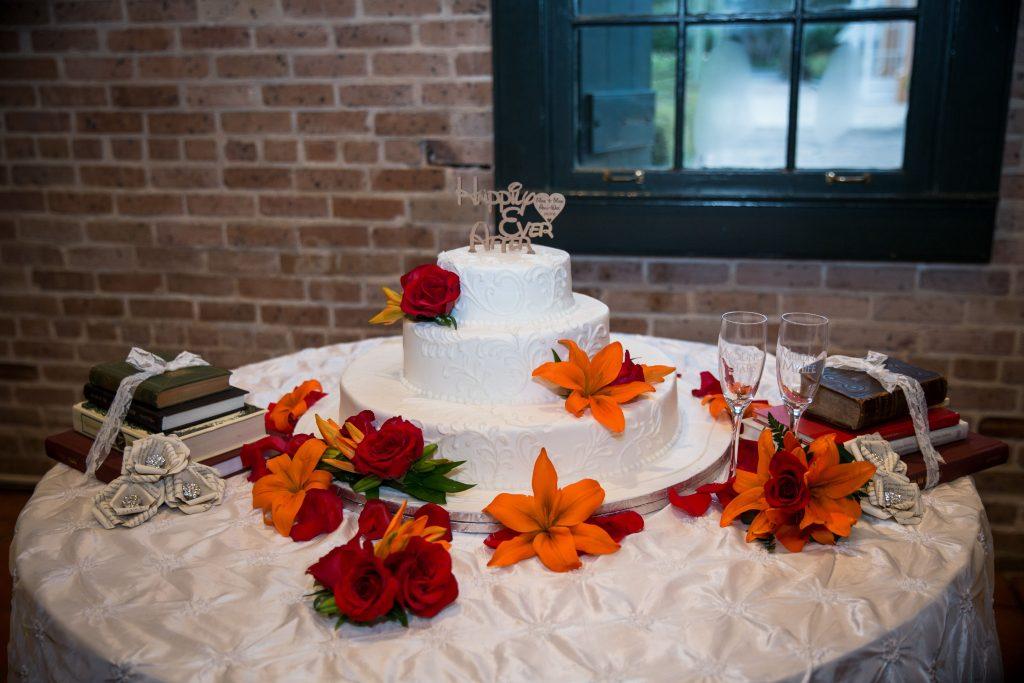 Vendor Credits:
PHOTOGRAPHY: Brian Jarreau Photography | GETTING READY LOCATIONS: Hampton Inn & Suites Convention Center | CEREMONY LOCATION(S): Botanical Gardens in New Orleans City Park | OFFICIANT: Sean Palani | RECEPTION LOCATION: Garden Study Center in New Orleans City Park | REHEARSAL DINNER LOCATION: Rizzuto's | BRIDAL GOWN (DESIGNER AND STORE): Talia: Second-hand gown refashioned by TK Bridal Atlanta; Jess: Debbie's Bridal in Gonzales | FLORIST: Beverly North Floral Designs | BAKERY: Haydel's | CEREMONY MUSIC: Maria Curry | RECEPTION ENTERTAINMENT: DJ – Jeff Tircuit | HAIR & MAKEUP: Hair (Jessica) – Mickey Nolan | HONEYMOON (DESTINATION): Little Cayman | DECOR RENTALS: Table centerpieces designed by Talia; everything else Etsy | CATERER: City Park Catering | JEWELER: Talia: Zales, Jessica: Laura Powers Jewelry in Atlanta | FAVORS: PlainJane2424 on Etsy | INVITATIONS: VO Handmade on Etsy