Claire and Andrew: A Romance by Design
Written by: Marielle Songy
Claire and Andrew's love story began with a chance meeting at a Halloween party in college. As soon as Andrew saw Claire, he knew that his life was about to change forever. They began talking and spent the evening getting to know each other, almost forgetting that there were other people at the party. At the end of the evening, Andrew walked Claire home and they parted with the promise to see each other again. As they said good night, Claire smiled and Andrew knew that her smile was all that he would ever need. After pursuing Claire for a few months, the couple shared a New Year's Eve kiss as the Fleur de Lis dropped in Jackson Square and both of them knew that this love was going to last for an eternity.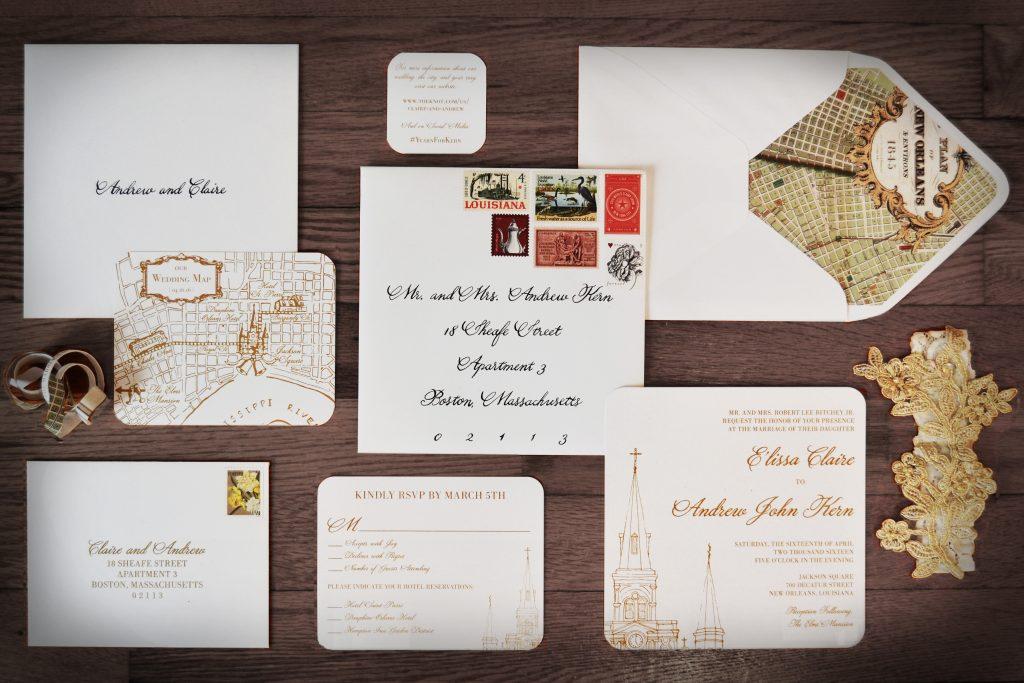 Claire and Andrew are both designers and have a Master's in Landscape Architecture and a professional degree in Architecture respectively, so it made sense that they were eager to add personal design flair to every detail of their special day. The invitations, thank you cards, programs and stationery were all hand-drawn by the groom. Claire then used these sketches and added her special touches using a computer to add her own flourishes and the text. From the start, this couple worked as a team to make their day as special and unique as they are.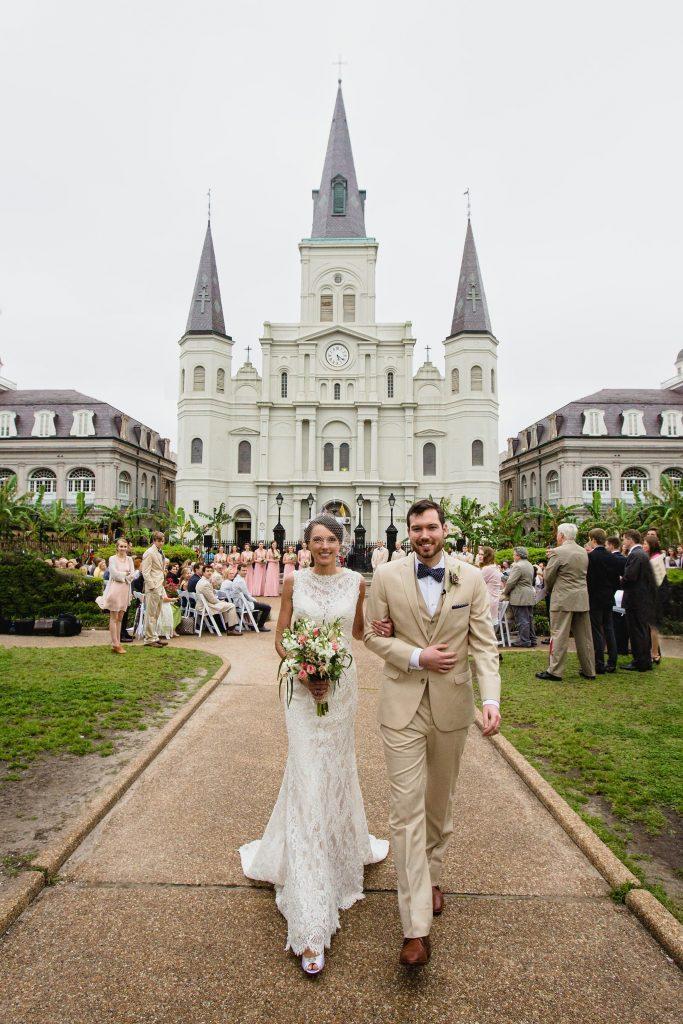 The couple exchanged vows in Jackson Square, at the site of where their love began- the history and the architecture of the Square reflects the couple's love for design and each other. The wedding was officiated by Dr. John Bannon, the same pastor who married Claire's parents and the reception took place at the Elms Mansion where Andrew's parents met 30 years prior. Tying the past with the present was a sentimental detail that made the couple's wedding special and intimate.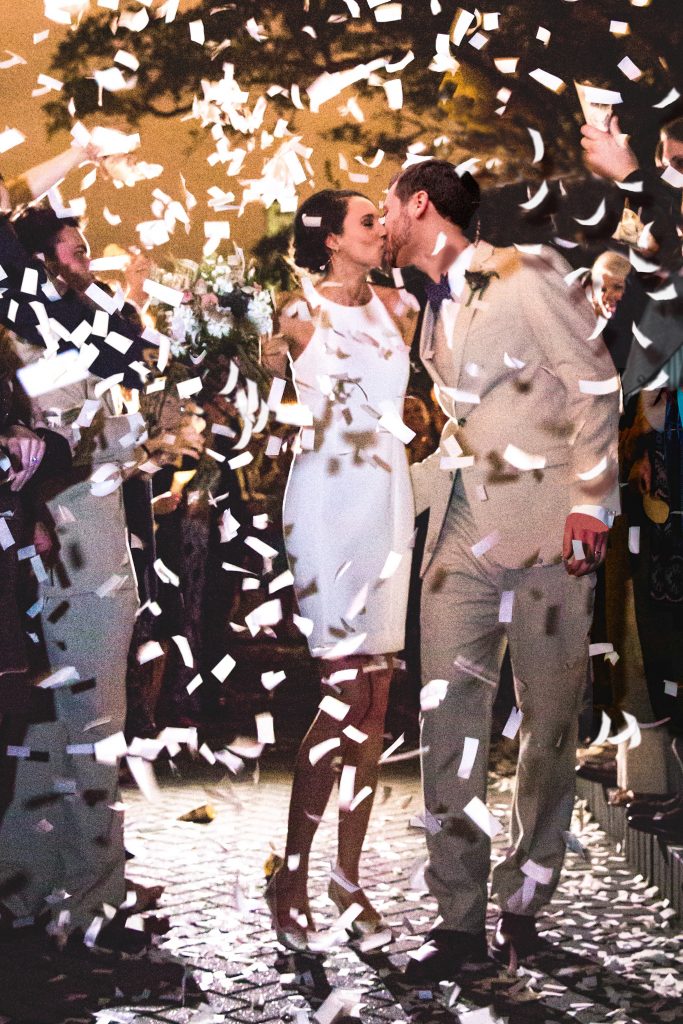 The highlight of the wedding for Claire and Andrew was their second line from Jackson Square to Canal Street. The newly married couple danced, kissed and laughed all the way to privately chartered streetcars that whisked the couple and their guests to their reception at The Elms Mansion.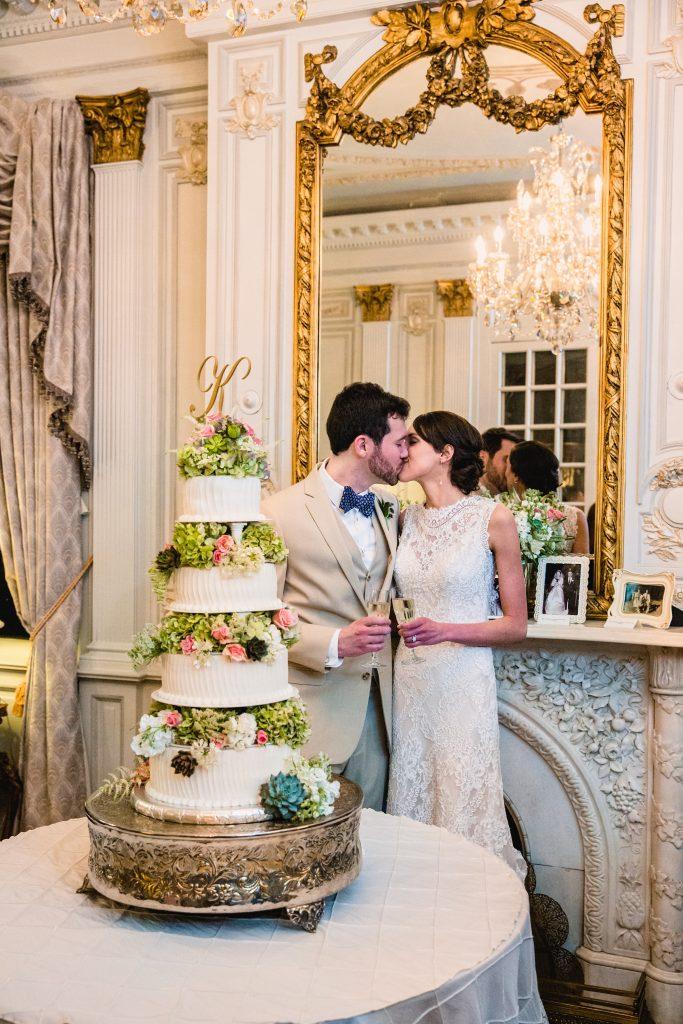 From beginning to end, Claire and Andrew's romance and wedding was perfectly designed and is undoubtedly built to last a lifetime.
Vendors:
RECEPTION LOCATION + CATERING: The Elm's Mansion |CANDLE DÉCOR: Firefly Ambiance | PHOTOGRAPHY: Sam Gregory | GETTING READY LOCATION: Hotel St. Pierre | CEREMONY LOCATION: Jackson Square | OFFICIANT: Dr. John Brannon | REHEARSAL DINNER LOCATION: Rock 'n' Bowl | BRIDE'S GOWN: Liv Harris exclusively for VOWS | BRIDESMAIDS' GOWNS: The Dessy Group | MENSWEAR: NOLA Couture + Men's Wearhouse | VIDEOGRAPHER: Montoto Productions | FLORIST + DÉCOR RENTALS: Fat Cat | BAKERY: Nola Belles | CEREMONY MUSIC: Dr. Jazz and the New Orleans Sounds | SECOND LINE: Free Agents Brass Band | RECEPTION ENTERTAINMENT: Rusty Yates Band | TRANSPORTATION: 1967 Mustang Convertible, New Orleans Street Cars, American Luxury Limousines | HAIR + MAKEUP: Get Polished | WEDDING PLANNER: Emily Sullivan Events | FINE JEWELRY: Hornsby | FAVORS: American Klassic Designs | INVITATIONS: Ecrire Designs