The ABC's of Wedding Planning:  When Plan A Isn't Going To Work
By Rena Sweeney:: Owner, Alchemy Events | Creative Director, New Orleans Weddings Magazine
New Orleans wedding Second Line featured photo by Studio Tran
For couples working without a full service coordinator, one of the most baffling questions during their planning process is how to create a "Plan B" for their wedding day in case of an emergency…and how much extra that will cost them. While weather is typically at the top of this list, especially given all the beautiful outdoor spaces and courtyards available in New Orleans, I also want to touch on some other potential hazards that you should consider during your planning process.
To tent or not to tent?
If your venue is completely outdoors or doesn't have enough indoor space to accommodate moving everything inside, you need to start your Plan B by considering both the time of year and time of day during which you are getting married. I encourage all of my clients to reserve a tent when they have a venue that cannot accommodate everyone inside. Waiting until you get closer to reserve a tent can be risky because if you wait too long or until weather reports are forecasting bad weather, you may have difficulty finding a tent that is available. Typically most tent and rental companies will ask for a non-refundable 50% deposit for them to reserve the tent for you. They will then give you a deadline for when the decision must be made which, depending on the company and the size/location of the tent will vary but is typically 2-3 days out. You will want to speak with your venue prior to confirming the tent, because different properties, especially historic ones, may have different rules regarding what they allow. If the tent company has not worked in that space previously, then they may wish to do a site visit to take measurements and speak to your contact at the venue to ensure they are meeting all requirements which can range from being so many feet out from the building to avoiding power lines or not tenting too close to trees.
As your wedding day approaches, once you have made the decision as to whether you want to tent or not, you will either have only lost your 50% deposit (if you don't need it) or you'll be responsible for the full amount (if you decided to put it up). Most companies prefer to erect a tent the day before your event when possible because it does typically take several hours or longer depending on the size of the tent being installed. Additionally, if you are tenting due to the threat of rain, you will want to consider what other vendors may need early access to your venue as well, such as a rental company who may be installing a dance floor. If you are worried about wet ground, you may also ask them about putting in flooring in the entire area under the tent as well, which again, would require additional time to install.
You may also want to ask your venue if there are any other events there the same weekend as yours. If so, you may be able to put up a tent for the weekend and leave it up, allowing both parties to use it and split the cost. Additionally, doing so might save some money because instead of having a crew come out late at night or on an off day like Sunday, they may be able to come back on Monday during business hours to break down your tent, meaning a savings in the labor cost.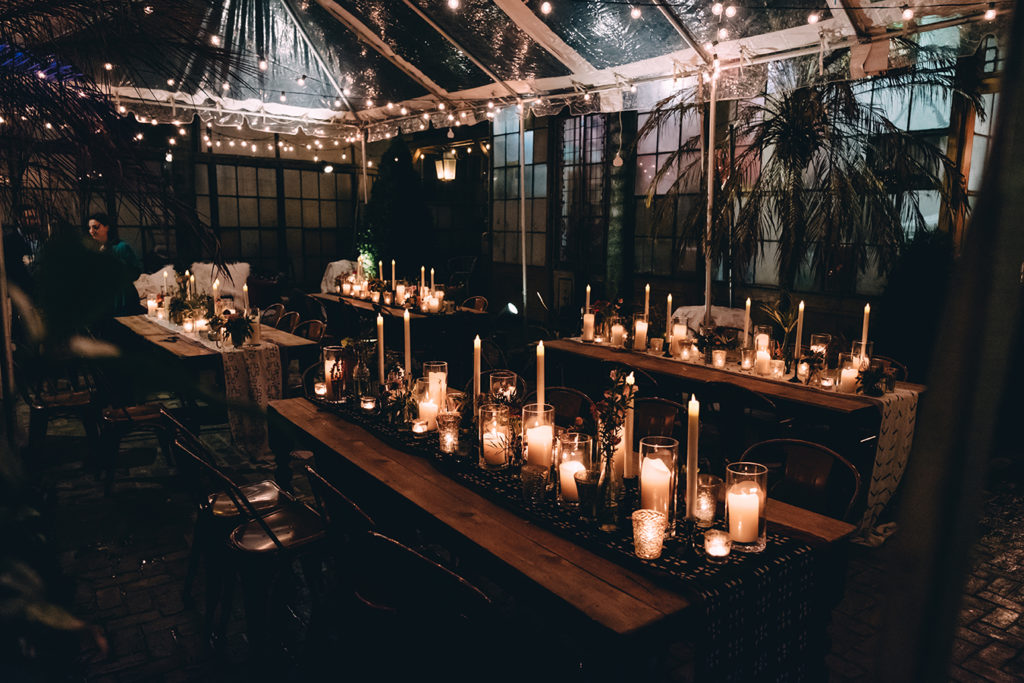 The low-down on high temps.
Unfortunately, since it is hot for most of the year in southern Louisiana, sometimes our weather issues aren't rain so much as temperature-related. This can mean that those beautiful clear tents are not the best choice. On a hot summer day they can heat up and cause even more discomfort for your guests. If you have a daytime wedding, white tents that block the sun's rays may be a better fit for your wedding. Many companies also offer fans that attach to the top inside poles of the tents as well. If you'd like full air conditioning or a more elegant look, you can always opt for a tent liner or greenery to hide the inside tent poles and with side walls down on the tent, instead of it being open air, you will be able to bring in portable air conditioning units that most tent and rental companies provide specifically for large spaces such as this. The same is true for the rare cold snap here in New Orleans. Heaters of various sizes and capacities are available but you need to have the tent & rental companies speak, if it's not the same vendor, to ensure that the size, quantity and type of heaters you want to use are appropriate for the space you are trying to heat. You'll also need to remember to keep heaters away from the side walls of your tent and from impeding the flow of traffic through your space.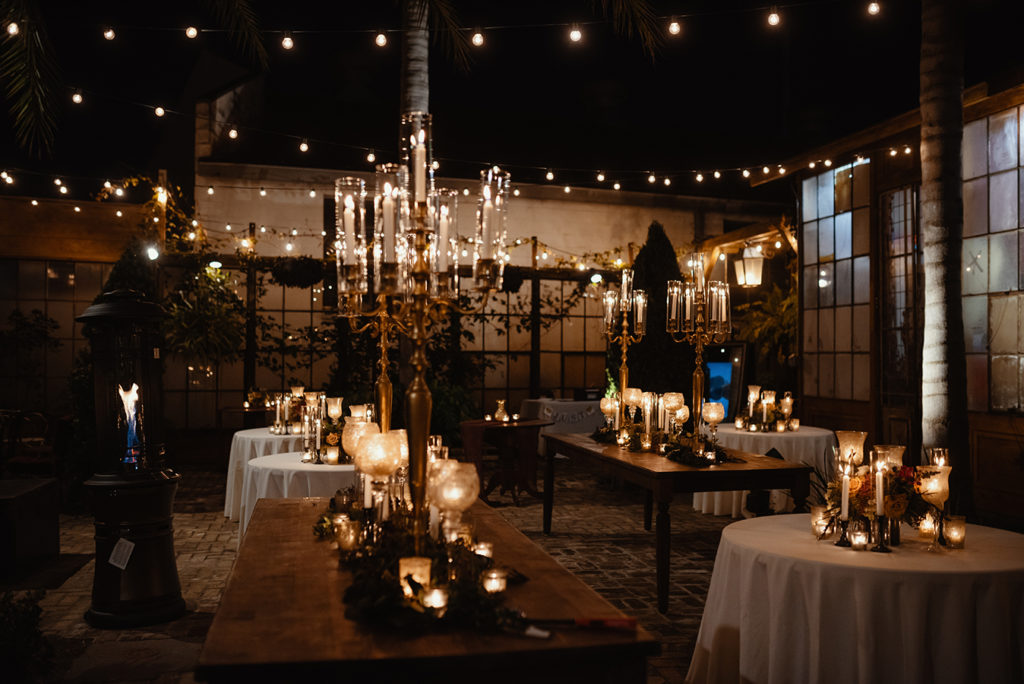 The flip.
If you are lucky and your venue has enough space to move everything inside, there are still some considerations you need to be aware of. While you will need to have a separate floor plan in place, you also need to consider if you will have to "flip" the room, that is, break down after the ceremony and then re-set the space for your reception. If you do, this is typically a great time to do a classic New Orleans Second Line because it gets guests out of the space for awhile, having fun while your vendors and staff are able to quickly change the setting. Fortunately, this is something that wedding professionals in New Orleans are very familiar with given our many small courtyard spaces, so most of the time this can be done quickly and when you return from your Second Line, you won't even know they were rushing to change the layout.
Orchestrating a flip does require additional staffing and thus is something to ask your venue or caterer about as it may require additional fees to bring in staff just for that time period. If you do have to flip the space, try to have vendors who need floor space such as the band already set prior to the ceremony, as they otherwise would not have enough time to set up, sound check, etc.
One final consideration if you must move everything indoors is to speak to your venue as well as your vendors about power usage. Consider that your photo booth, band, or others who need power should not all be on the same circuit or you may risk throwing a breaker if you are suddenly moving everything inside instead of spacing them out as you may have initially planned.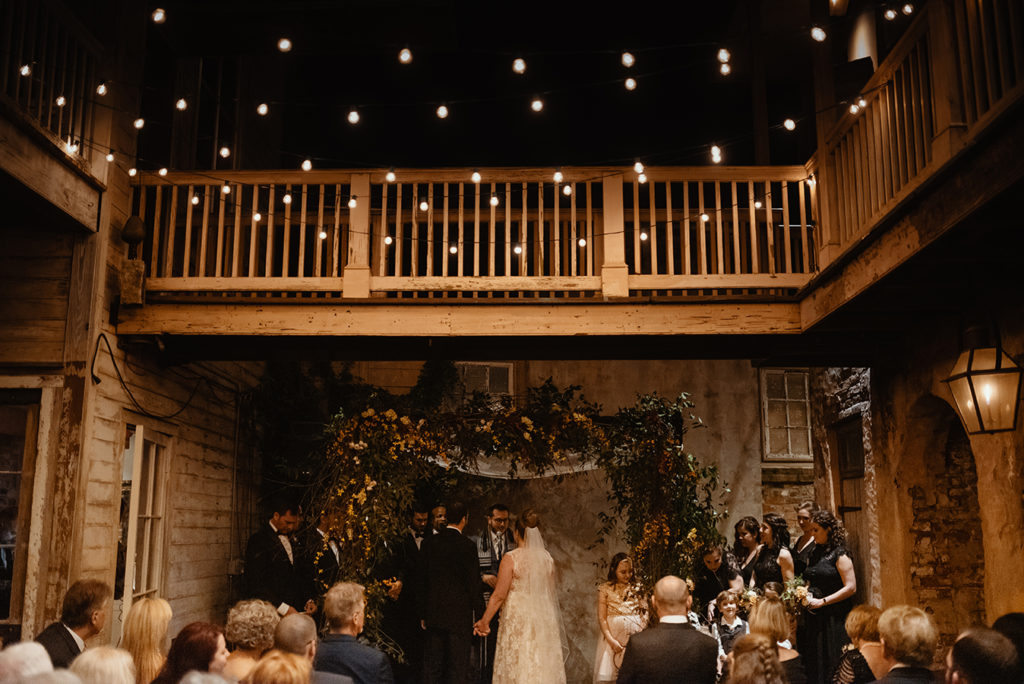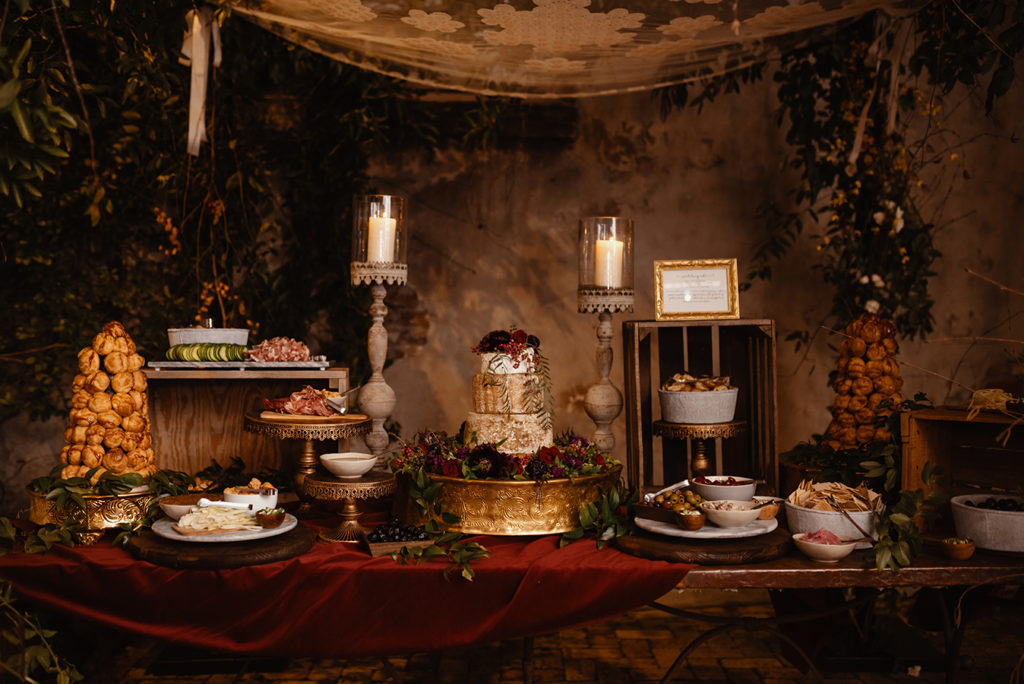 Plan C?
For those of you who are very easy going or looking for a Plan C, I have one final suggestion as it relates to weather. If it looks like you may just have a small sprinkle of rain on your wedding day, you can try to be flexible. Sure, you have your venue booked for a 5 hour window consisting of a ceremony, cocktail hour then 3 hour reception but maybe your guests can mingle with cocktails inside until the rain passes and you adjust your schedule a bit. You may want to consider having a cocktail hour first and greet your guests then go slip into your dress & proceed with the ceremony once the shower has passed.
The main consideration for this is that anything involving power will not be able to be outdoors during that time such as band equipment or lighting. You may also want to have staffing ready to pull tablecloths off or cover items in tarps so they aren't soaking wet. Having staff either put out chairs once the rain is passed or having towels to wipe down chairs is also something you will have to consider. If this is your plan, you may be able to have the rental company handle this or ask the caterer if they can provide additional staff in this type of situation.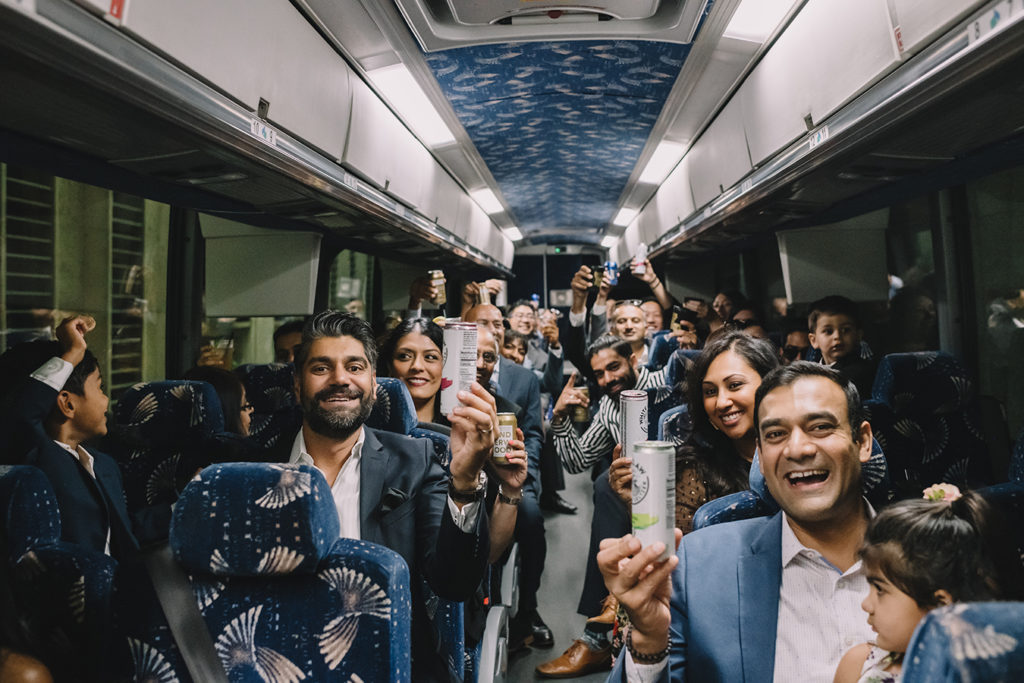 Getting there is half the fun (and sometimes most of the stress.)
The final portion of your Plan B that I want to cover is not wedding related, but is really two items that go hand-in-hand. Transportation and outdoor events can be one of the greatest sources of Plan B stress, especially in downtown New Orleans. I would encourage you to check online sources such as the New Orleans Convention and Visitors Bureau website to see what other events are happening in the city and surrounding areas on the same day as your wedding. Over the last 20 years I've seen everything from a marathon that shut down the street in front of the venue to the riverboat ferries being down and LSU football games that caused shortages of charter buses.
Once you have established whether or not there are events in the area that may make travel options difficult, you need to consider the dependability of your transportation. While riding the ferry or streetcar can be a fun experience, especially for destination New Orleans weddings, you will definitely want to consider what your back up plan will be in case they are non-operational or running late. Additionally, even if you book a charter bus for your guests, things like construction, traffic accidents or even movie filming can unexpectedly delay you. While those things can be hard to plan for, typically I like to pad my timeline of the day to account for any unexpected delays such as those. Even if your GPS tells you that it only takes 15 minutes to get from one location to another, plan for it to take longer! It also takes some time to get guests on and off buses so make sure to plan accordingly and not cut things too closely. It's better to have to pay for an extra hour for your bus than to have a mishap on your wedding day that may cause you to miss an hour of your reception.
Budget planning.
While you are considering all of this at the very beginning of your planning process, take into consideration how much each Plan B would potentially cost you and work the maximum into your budget. You don't want to be caught by surprise as your day approaches and find that you didn't budget accordingly. If you have to use the maximum budget, know it was well spent to ensure your day was a success and if it doesn't get spent then consider it extra money for your honeymoon or even a spa day for the two of you once the wedding is over.
Finally, when do you pull the trigger on your Plan B? As previously discussed, if you are tenting then most companies will give you a deadline to make that decision. While the weather forecast is typically available starting 10 days out, these can vary widely so make sure to keep track to see if it changes day to day. Once you are 3 or 4 days out, typically it is more dependable and that is when you should start considering if you will have to enact your Plan B or not. Making that final decision is going to depend on your situation and the reasons for enacting it, however, having prepared for this beforehand will make you feel confident that you are making the best decision and save you from the last minute stress of trying to figure out what to do.