Real Wedding: Courtney Harper + Adam Turkington
Written by: Natalie Pompilio
Photography by: Eau Claire Photographics
Courtney Harper had just finished her first year of law school when boyfriend Adam Turkington made detailed plans for them to take their two miniature dachshunds to Audubon Park the following weekend. He was very specific about which day and at what time this stroll would occur.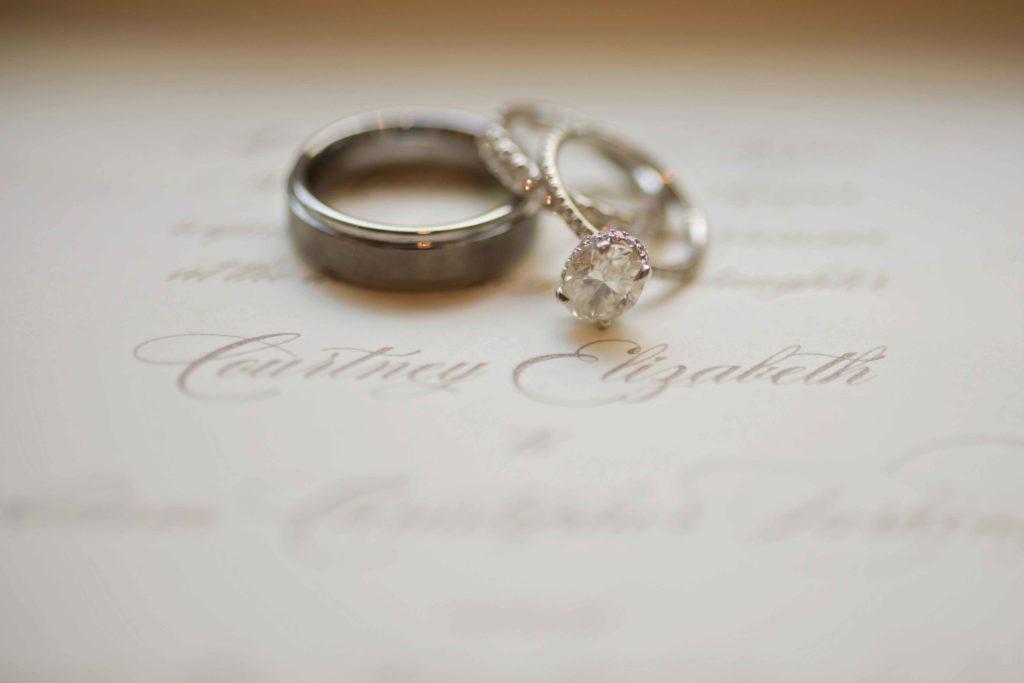 "That probably should have alerted me that he had something up his sleeve," Courtney says. "I'm usually the one scheduling things down to the second."
On what seemed to be the hottest day of the year, the couple took their beloved dogs, Olive and Gus, to the park. Adam proposed near the amphitheater.
"In true New Orleans fashion, he asked me to marry him as D.J. Jubilee's "Get Ready, Ready" played in the background from a nearby party," Courtney says. "It was wonderful and hilarious – exactly like our relationship."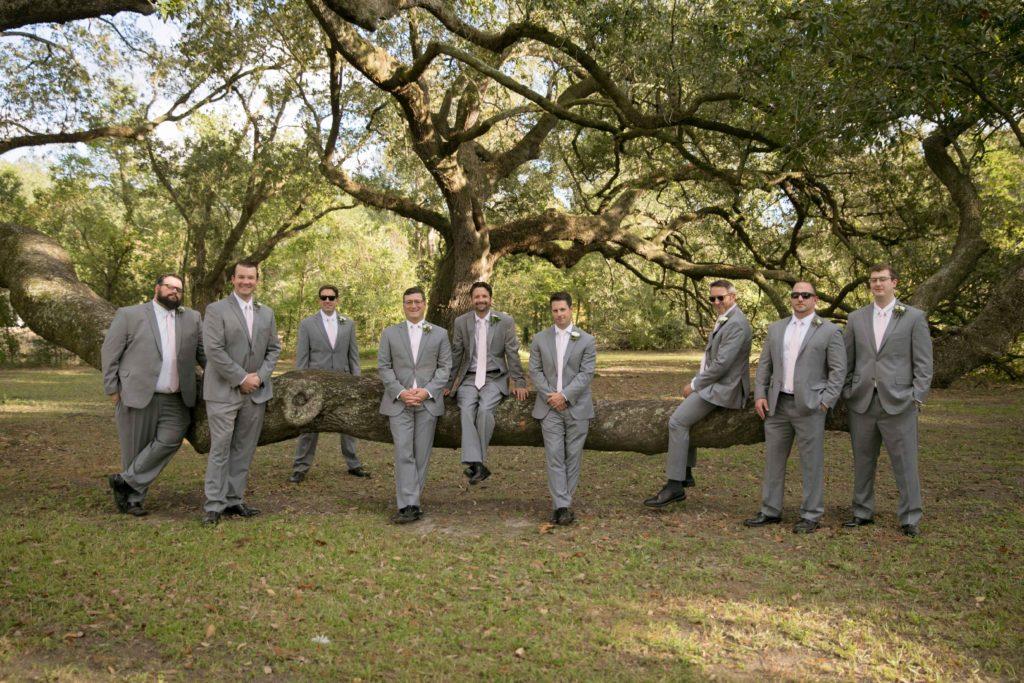 The pair exchanged vows before 160 guests at the Audubon Clubhouse on Nov. 4, 2017. One of Courtney's favorite parts of the wedding was when the officiant – family friend Andy LeBlanc—told the couple to "repeat after me."
"Adam whispered, 'Repeat after me,'" she says. "Our wedding day was very us and it was very special."
Having Andy officiate also meant a lot to the couple: Just six months earlier, Andy and his wife, Jill, lost their four-year-old daughter, Molly Mae, to complications following liver and kidney transplant surgery. Because of that devastating loss, Adam and Courtney hesitated before asking Andy to play an active role in their celebration.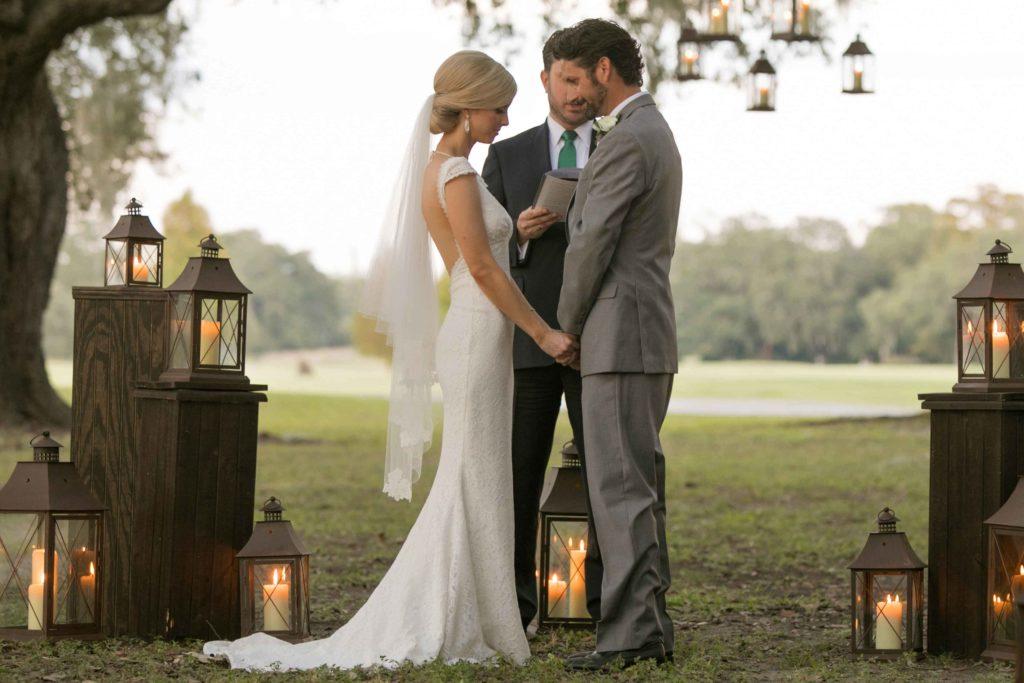 "Adam and I really wanted to have someone marry us who knew us very well and who embodied faith, strength and love," Courtney says, "but we weren't sure it would be too much to ask of him."
Then Andy shared a dream he'd had about giving a speech at Courtney and Adam's wedding. Misgivings gone, the couple asked Andy to lead their ceremony.
They also made their wedding day a tribute to their friends' child: the groomsmen wore green bracelets with #BLMM (Be Like Molly Mae). Green was Molly Mae's favorite color.
The speeches during their wedding weekend had a common theme: These two are the real deal.
Best man Mikey Dessauer described the couple as being in their "own little love bubble." Andy noted that the pair are always together, joking, "We get it! You love each other!"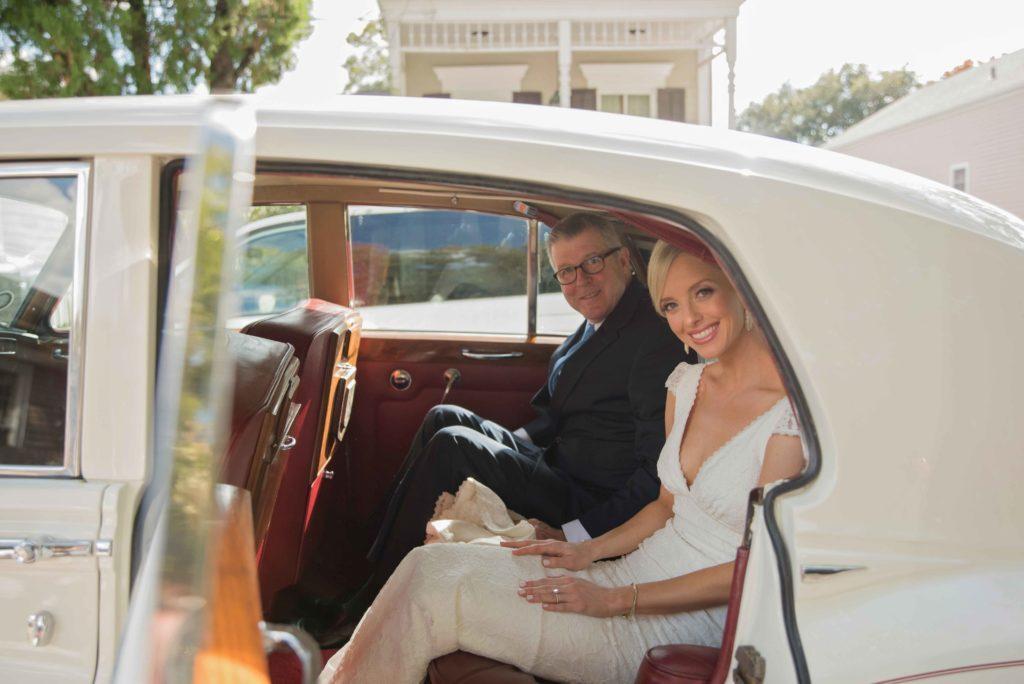 "Every moment of our wedding day was our favorite," Courtney says. "Every detail was absolutely perfect."
Vendors:
PHOTOGRAPHY: Eau Claire Photographics | CEREMONY + RECEPTION LOCATION: Audubon Clubhouse | OFFICIANT: Andy LeBlanc | REHEARSAL DINNER: Ralph's on the Park | BRIDE'S GOWN: Amy Kuschel, Wedding Belles | BRIDESMAIDS' GOWNS: Jenny Yoo + Monique Lhuillier, Wedding Belles | MENSWEAR: Jos. A Bank | FLORIST: Poppy & Mint Floral Company | BAKERY: Bittersweet Confections | CEREMONY MUSIC: New Orleans Fine Arts Ensemble | RECEPTION ENTERTAINMENT: Nola Dukes Band | HAIR: Lesley Rogers (Bride) + Christine Erhardt (Bridesmaids) | MAKEUP: Katie Malone Makeup | WEDDING PLANNER/DESIGNER: Catherine Lagarde | CANDLE DÉCOR: Luminous Events | JEWELRY: Lauren B Jewelry (Bride) + Lee Michael's (Groom) | INVITATIONS + FAVORS: Write Collection