Let's Get Real: Advice from an event planner about realistic budgets for New Orleans weddings.
By Rena Sweeney, Alchemy Events + NOW Weddings Creative Director
(This article was originally published in March of 2019 and has been updated to reflect average prices in January 2021.)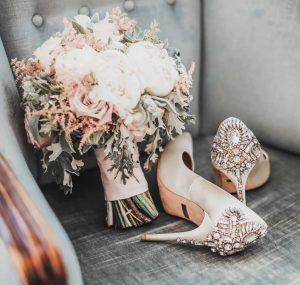 AS A WEDDING COORDINATOR BASED IN NEW ORLEANS FOR THE LAST TWO DECADES, ONE THING THAT I SEE AGAIN AND again is clients coming to me with unrealistic budget expectations. Typically, they find a book, magazine or online article that shows average costs for weddings around the country. However, even though New Orleans feels small (everybody knows everybody!), when it comes to weddings, we operate much more like a large city. Our market is a popular destination wedding location and the pricing here is reflective of that and does not follow the national average.
I am known for out-the-box weddings and events, so while I know all too well that not all of these categories will apply to everyone, this is a starting point for what you can expect to pay for some of the most popular wedding goods and services here in my home base of New Orleans.
The largest part of your budget will go toward your main event or reception. Typically, if you can find a venue that offers an all-inclusive option that provides tables, chairs, linens, in-house catering, etc., you'll find this ends up being priced better than a blank space where you must bring everything in yourself. I often have clients who want to get married at home or on a private estate, but they don't realize the additional needs and expenses this can bring, such as generators, restroom trailers, or renting everything down to the flatware for their reception.
The average starting price for a mid-range, all-inclusive venue will typically start around $3,000 for the rental fee, $1,000 for a ceremony fee and then you will likely have a food and beverage minimum which often will start at around $10,000 for a Friday night (more for Saturdays). Menu and bar packages average in the $70-90 per person range but again, can go up if you select premium food and liquor. It is also important to be mindful of tax and service fees which can sometimes add up to 30% to the cost of your bill.
Entertainment, such as a live band for your reception, will usually cost between $4,000 – 10,000 and if you are doing a Second Line, that will typically average around $1,200 for a 30-minute parade.
Photography is of the utmost importance for your wedding day in my opinion. These are the memories you will keep forever, and it is also important to hire someone who has an artistic style that matches your taste. These photographs will hang in your home for the rest of your life! Most photographers average around $4,000 – 5,000 for wedding day coverage but this, more so than other vendors' pricing, can range very widely depending on how many hours of coverage you request, if an album and prints are included, how experienced or in demand the photographer is and if there are other days/events you would like them to cover as well. Videography can then add on another $3,500-5,000 to that.
Fresh flower prices have skyrocketed with supply chain issues and some varieties are double what they were just 2 years ago. You should expect to spend $2,000 – $4,000 for the basic personal flowers for yourselves, a large bridal party, family, etc. As with everything, of course, the pricing can be much more depending on your selection of flowers, the time of year, how many personal items you need, if you are decorating the ceremony site or going over the top at your reception. Likewise, centerpiece costs can vary wildly based on the same factors! Some in- demand florists may have a minimum of $3,000-5,000 depending on the time of year your wedding is.
Finally, the end of the evening means dessert! When it comes to cakes, most mid- range bakers charge $3.50-5 per slice for a simple buttercream frosted cake. More detailed designs, hand work, fondant, and sugar flowers instead of real flowers all add to that cost. You'll also want to consider the cost of renting a cake stand which can start at $30 on the lower end and go up to several hundred dollars for the more unique, ornate specialty stands.
I encourage all of my clients to start their planning process with a budget analysis and spend time talking about what aspects are the most important to each of them. Then, like everything with marriage, you must compromise.
Is the food important to you, but your fiancé(e) really wants a live band instead of a DJ? It's time to compromise! Do neither of you particularly care about the cake? There is no rule saying you must have one! Consider these things when you begin looking at vendors and deciding where you will spend your money.
At the end of the day, remember that your union is the most important aspect of all so during the planning process, remember to take time to love and appreciate each other and remember why you fell in love in the first place!
To help get your wedding budget in order, use our online calculator!
ABOUT RENA: Rena Sweeney of Alchemy Events has been creating exceptional event experiences in New Orleans and around the world for two decades. Her clients have a strong sense of style and she helps them embrace their wildest dreams and make them a reality while also maintaining a stress-free experience. Visit alchemyeventsnola.com to learn more!