Written by Sofie Lechat
YOU ARE WALKING DOWN THE AISLE. You are glowing with joy as you get closer to your love and your eyes embrace. You will never forget that look…eyes twinkling at just the sight of you and lips breathing the word "wow." Now, let us look back a few months before this moment. You have walked into a bridal salon for the first time and see an overwhelming number of dresses. Where, oh where, do you start? First of all, never trust the hanger. What your perfect dress looks like on you and what it looks like on the hanger are two entirely different things. You can't judge a dress without giving it a try. Keep in mind that the store sample may be entirely too big or too small for you. You may have to use a bit of imagination in these first stages, but you should be able to tell if the dress is worth further consideration. While it's said that it's the clothes that make a man, it is the bride that makes a dress.
SILHOUETTE
It's such a beautiful word, but what does it mean? The silhouette of a dress is the overall shape it creates. Your own shape will often help you choose the best silhouette for your dress.
BALL GOWN
This silhouette inspires visions of opulent balls with sparkling crystal chandeliers and elegant couples dancing across brilliantly polished marble floors. Often paired with a corset-style bodice, the full skirt of a ball gown will flatter a pear-shaped figure. This silhouette may not be the best choice, though, for full figured women or women who are very petite.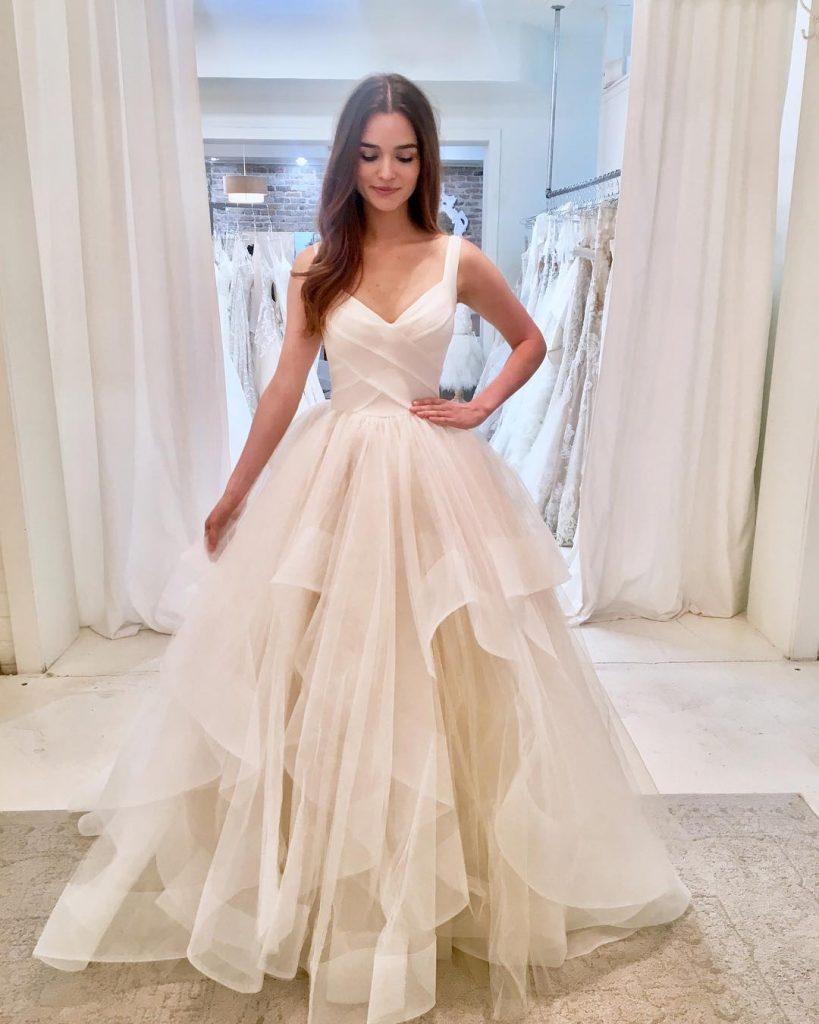 A-LINE
The most flattering of silhouettes is the A-line. True to its name, the A-line silhouette is shaped like an "A". A-line gowns generally have only vertical seams that often run from neckline to hemline and the skirt flares from a natural or drop waist. This silhouette will cover a multitude of chocolate sundae sins.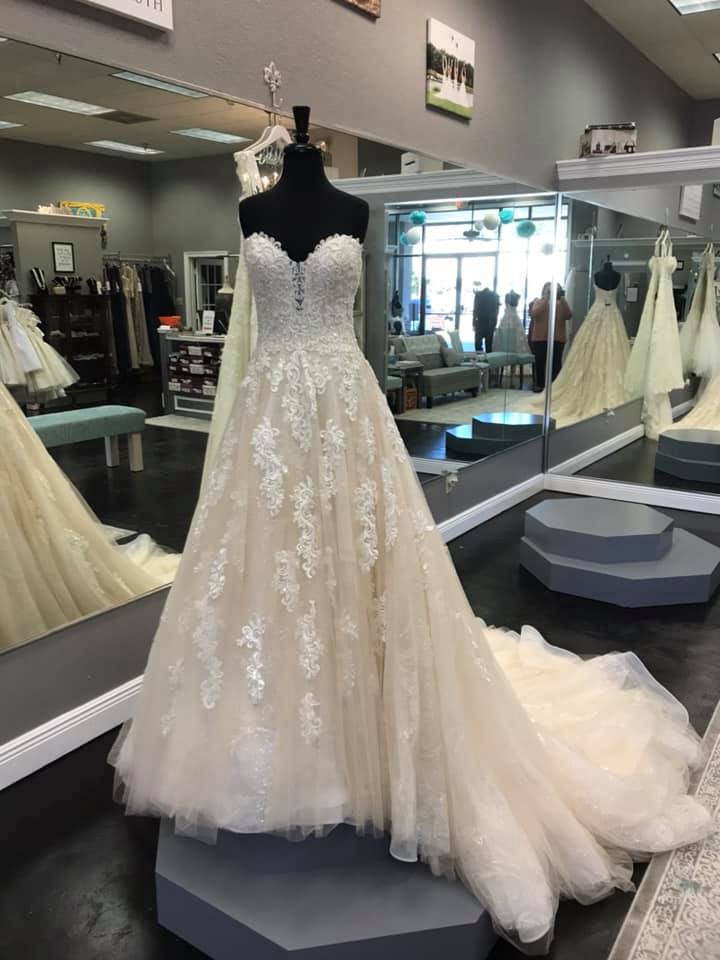 EMPIRE
An Empire silhouette creates a much straighter line and doesn't hug the body as much as an A-line silhouette does. Instead of emphasizing the waistline, an empire silhouette creates a less-defined body shape. You will know an Empire silhouette by a seam that falls just below the bust line. This silhouette looks great on most brides, but those with a large bust may want to avoid this style.
SHEATH
This silhouette is, quite simply, loosely form-fitting gowns that tend to drape softly instead of hugging the body. Sheath silhouettes are often made of very light fabrics like chiffon and can tend to emphasize imperfections. This silhouette will look best on tall, slim brides.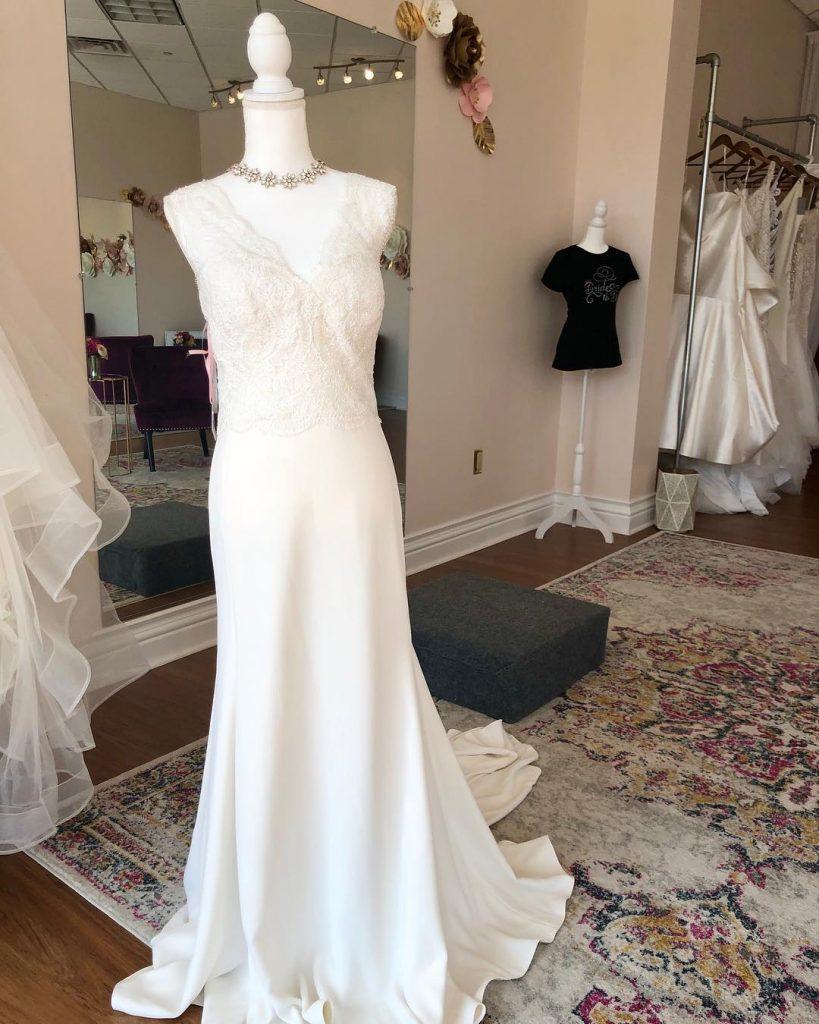 MERMAID
If you have knockout curves and want to show them off, this is the silhouette for you. A mermaid dress silhouette tightly hugs the body from the neckline to the knees and then flares out to create a "mermaid tail."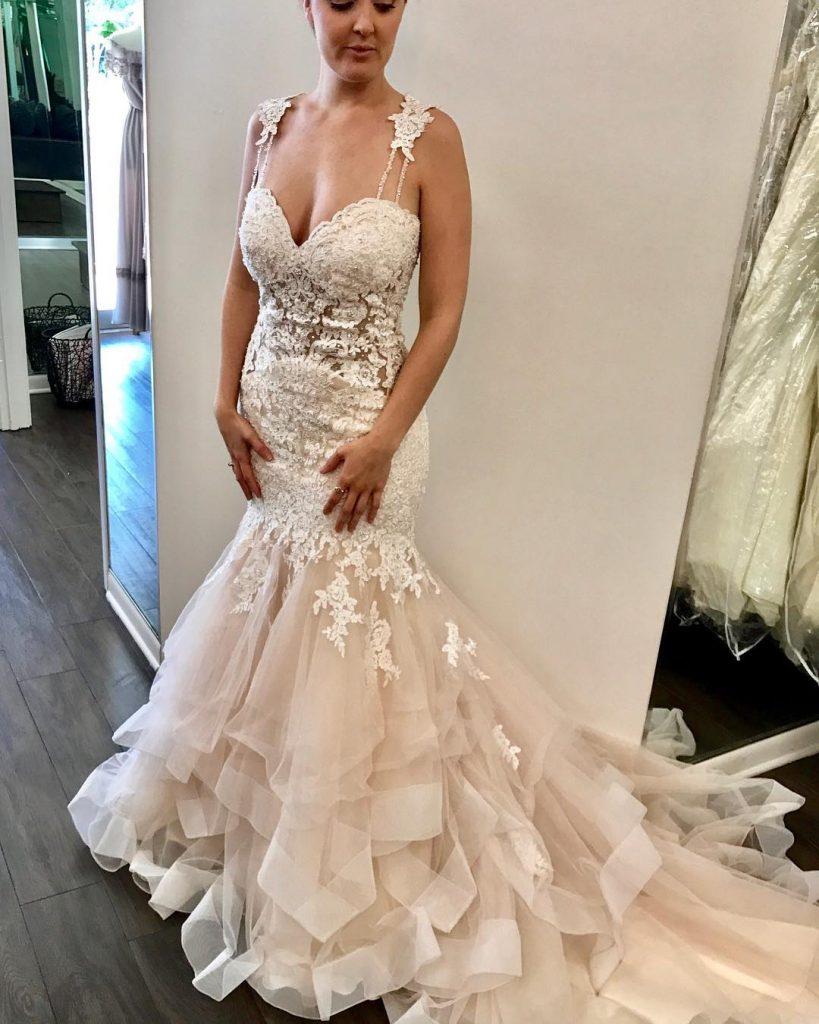 CONSIDER THE NECKLINE
The neckline of your dress is an important decision to make, but with numerous styles, how do you choose? The most important thing to remember is never to choose a particular style just because it is popular. You want to choose the neckline that is most flattering on you. Something to think about when choosing your neckline is the type of top you wear most often to go out in. This answer will give you a good starting point to work from. As a general rule, a scooped neckline looks good on everyone because it doesn't over-emphasize any one area. Variations of a scooped neckline are the Jewel neckline which is a high, rounded neckline that generally starts at the base of the neck, the Bateau neckline that starts about an inch below the shoulder (creating an off-the-shoulder look), and the Portrait neckline that is similar to the Bateau neckline, except that the neckline stands away from the body creating a collar-like effect. Another neckline that looks great on most brides is a square neckline. This neckline is a simple, straight line. You find this neckline most often on strapless dresses and dresses with spaghetti straps. A Sweetheart neckline creates a heart shape at the bust and shows a small amount of cleavage. This style also looks flattering on most brides. Halter necklines are wonderful for women with great shoulders and backs. It is important to note that women with a large bust may look top-heavy in a halter.
WRAP IT UP!
You will know when you've found the perfect dress because it is the one that makes you feel beautiful when you're wearing it. This confidence will add a sparkle to your eyes and make your smile brighter as you walk down the aisle. Now go get that "wow!"