Bubbles and Bites – Fall 2017
The Champagne Toast is a moment of celebration and honor, a tradition to be savored. No other wine is associated with momentous occasions in the way that champagne is. When you have gone to great lengths to make sure every single detail of your wedding and reception is perfect and expresses your own personal style, you also want to make sure that the champagne you serve is chosen thoughtfully – they aren't all the same! Beyond that, you don't just have to stop at the toast – champagne is a great wine that can be used throughout the reception, from the cocktail hour, through dinner, and even dessert.
What is champagne?
Though often misunderstood as a generic term for any sparkling wine, the name champagne is only applied to wines from a specific region in France. Because of the unique soil and climate of the Champagne region, as well as the generations of expertise in the region that perfected the methods of making champagne, no other sparkling wine can provide the unique style and genuine quality. Prosecco, cava, and domestic sparkling wine all have great producers, and their own special qualities. However, if you want to provide the very best to your friends and family, offer them a true champagne from talented French winemakers.
How is champagne made?
Though most champagne is a white wine, it is typically a blend of both white and red grapes: Chardonnay, Pinot Noir, and Pinot Meunier. They are all pressed in a manner to prevent coloration from the red grapes, and then made into wine the same as a still wine would be. After that, two important and unique things occur. The winemakers first blend these wines from different grapes together, including reserve wines from previous vintages to add complexity.
Next, this blend is bottled with an extra bit of yeast and sugar, the addition of which causes a second fermentation in the bottle. Because of this second fermentation in a closed bottle, the carbon dioxide that is a product of fermentation is trapped in the wine – and we have bubbles!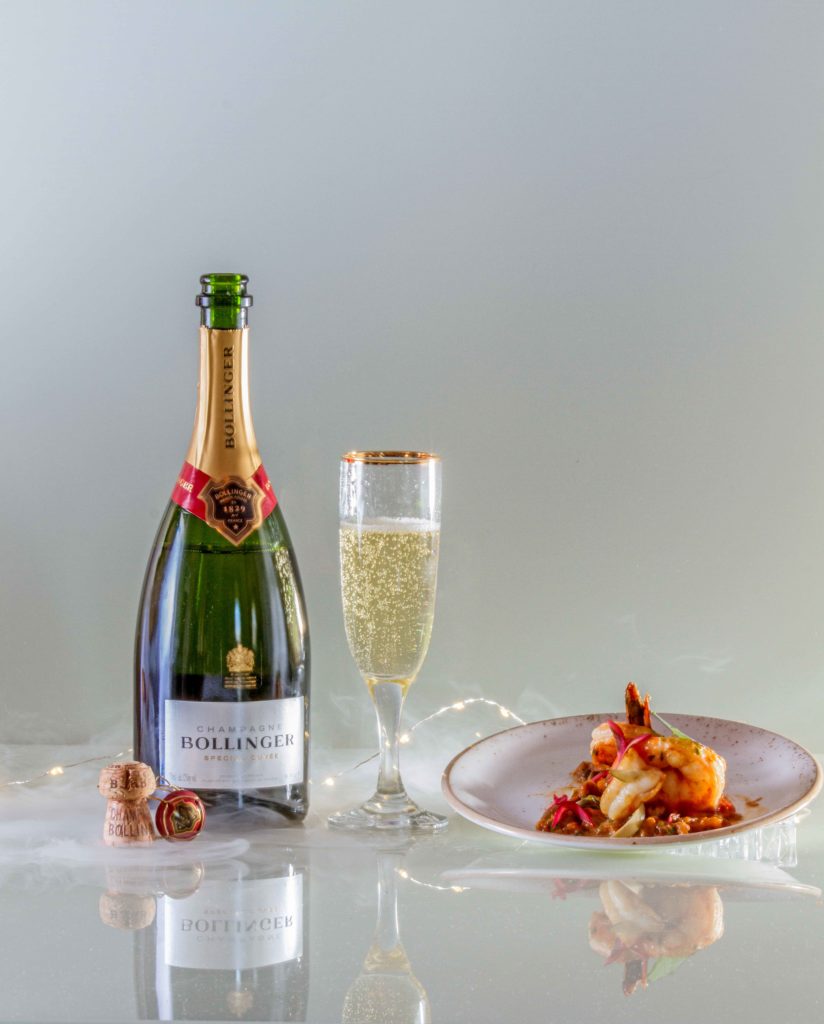 Bollinger "Special Cuvée" Brut NV – Gulf shrimp provencal, smoked olives, and preserved beets.
This well-known blend showcases Pinot Noir and is crafted for richness and complexity, offering a classic champagne profile of toasty aromas, mature fruit and balanced acidity and minerality. Excellent on its own, it will also work wonderfully with more assertive flavors from the provencal preparation here. It would taste great alongside charcuterie or a variety of passed hors-d'oeuvres too.
What styles of champagne are there?
The vast majority of champagne produced is termed non-vintage or "assemblage" (blend). As described above, these wines are blends of multiple grapes and wines from multiple years. Two other styles are made with only one type of grape, referred to as Blanc de Blancs if made from purely Chardonnay and Blanc de Noirs if made from purely the red grapes (Pinot Noir and Pinot Meunier). These wines provide flavors that we find in still wines made purely with white or red grapes, rather than the full blend of flavors we get in an assemblage style. Rose champagne is most commonly made by adding a small amount of still red wine, made from the Pinot, into the blend of white wines in order to give it the pink color and additional flavors. Vintage champagnes are very special – they may be a blend of the different grapes, but they only contain wine from one single year, and are only produced in the finest years and often in much smaller quantity. Each of these styles can also be made with varying levels of sweetness. Most champagne is of the Brut style, which is dry. Others can range from bone dry (Extra Brut or Brut Nature) to overtly sweet (Demi-Sec). Depending on the specific blends of grapes and years, the wines look and taste very different. Because of this, they have great versatility in how you can incorporate them into your celebration.
Gaston Chiquet "Tradition" Brut NV – Crispy skinned sockeye salmon, beet and watermelon gazpacho, and cuban oregano.
A classic blend of all 3 grapes, this assemblage style champagne is the most versatile when pairing. Here, Pinot Meunier is predominant and brings fresh ripe fruit flavors and herbal notes that match the assertive flavors in the dish while still letting the delicate fish shine.
How do you go about pairing these various styles of champagne?
Champagne, as a class, is one of the most versatile, food-friendly wines. While it can be said that there's a champagne for every food, it does not follow that all styles of champagne will be equally well-paired with all foods. Furthermore, while some champagnes are great on their own as an aperitif, some styles are considered "gastronomic" and need food to be best appreciated. The bubbles themselves play into this, with younger wines being more effervescent and perhaps best reserved for less delicate dishes. Champagne's relatively high acidity makes it both refreshing on it's own and accentuates the flavors and textures of fried or otherwise rich foods. And, as with still wines, there is a consideration of how the wine was made (the blend of grapes, stainless steel vs oak barrels, level of sweetness, age of the wine, etc) that also factor into which wine works best with which food. There are, however, some basic ideas that can help guide you to a wine you will find enjoyable no matter what part of the celebration you
choose.
"Classic" assemblage – the most versatile, can be used with aperitifs, main dishes, and certaindesserts.
Blanc de Blancs – younger and more mineral/acidic, perfect with seafood (oysters, ceviche); older or richer styles, great with poultry, cream sauces, mushrooms.
Blanc de Noirs – anything you'd typically pair Pinot with, including charcuterie and game meats.
Rose – extremely versatile given the different production methods, -lighter styles that are fruit-forward pair with aperitifs and fruit-based desserts-fuller-bodied wines are superb with duck and bbq, drinking sometimes like a lighter-bodied red wine
Vintage – back to richer dishes as the flavors advance and become more oxidized. Older
champagnes can pair very well with aged cheeses and even some desserts (pastry)
Demi-Sec/Sec – very broad ranges of sweetness, some which could work with spicy food similar to a riesling and others that demand desserts to match up to the prominent sweetness.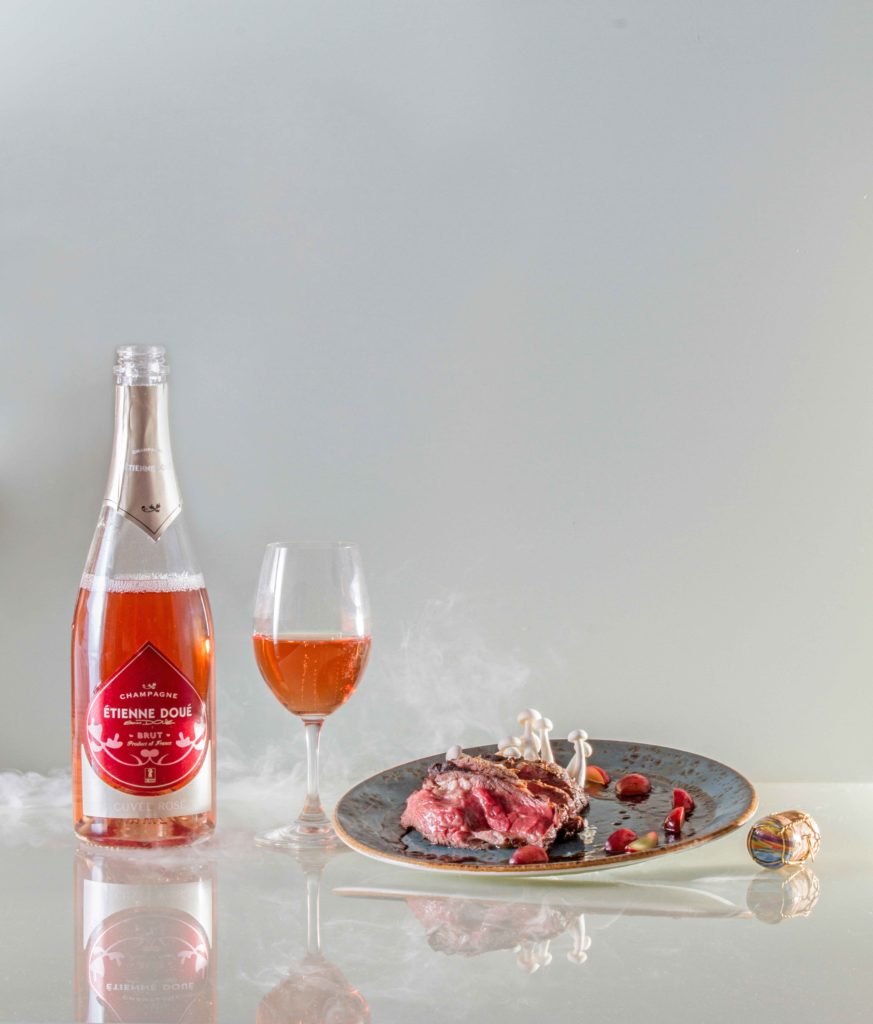 Etienne Doue "Cuvée Rosé" Brut NV – Grilled dry-aged chuck steak, with a grape worcestershire demi glace, and white beech mushrooms.
The beautiful color hints at the red fruit flavors you find in Pinot Noir, which remains a great pairing with beef even in champagne form. This could also be used for a visually stunning wine to toast with, or with a simple dessert of berries and cream.
What is the best way to serve champagne?
While the champagne flute is a traditional and beautiful way to enjoy the wine during your festivities, you should be open to other styles of glasses too. This is especially important if you'll be serving champagne with food. In that case, opt for a white wine glass to let the champagne really open up and show all of the complex aromas and flavors it has to offer at the table.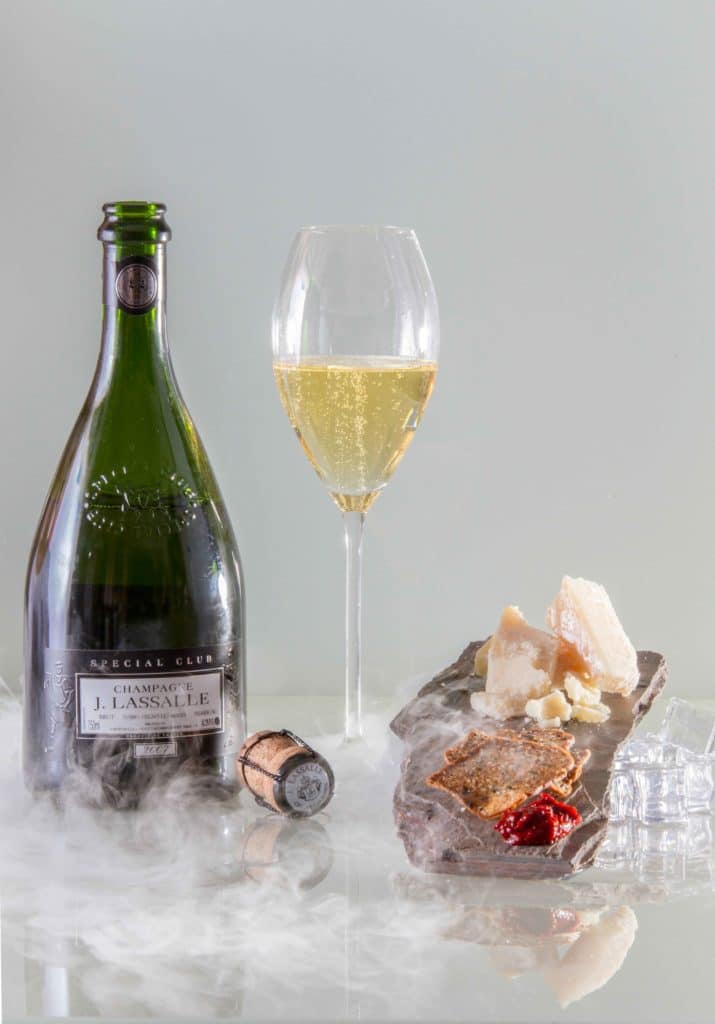 J Lassalle "Special Club" Brut 2007 – Aged parmesan reggiano, gruyere, melba toast, and a plum paste.
The extended aging of this vintage champagne develops a complexity and maturity that goes perfectly with an aged cheese. Though delicious on its own, it can also pair with richer entrees or pastry-based desserts.
How do I go about choosing?
New Orleans is an exciting place right now in terms of champagne selection. Though the most well-known champagnes are from very large producers, there has lately been a resurgence of champagnes made by smaller winemakers, the "grower-producers". While the larger brands can be found at any grocery store, you will find an excellent selection of high quality wines from these smaller producers at wine shops across the city. Many new producers are in the market now, and oftentimes you can get high quality, smaller-production wines for less than you spend on a big-name brand at a grocery store. And for your special occasion, you want to remember it with a wine that isn't a generic everyday find. If you have a preferred style, go to your favorite local wine shop and ask the staff there to make some recommendations for you. Once they know what you like, how you'll be incorporating it into your celebration, and what your budget is, they can help you narrow in on just the right wine.
Article written by Michael Knisley, Bubblyothèque
Cuisine: Nathanial Zimet, Chef/Owner of Boucherie Restaurant
Interested in learning more about champagne and how to incorporate it into your celebration? Bubblyothèque, a venture from local champagne expert Michael Knisley, is dedicated to helping people learn about these special wines and have some delicious fun while doing so. Through a variety of classes, tastings, a pop-up Champagne Bar, and other special events, you can get an idea of what styles you like and how they work with (or without) food. Want to incorporate champagne into a custom event? Get in touch via info@bubblyotheque.com. See bubblyotheque.com or Facebook for upcoming events and follow @bubblyotheque on Instagram for a peek at the events and bottles he's sharing.